Local SEO Content Tips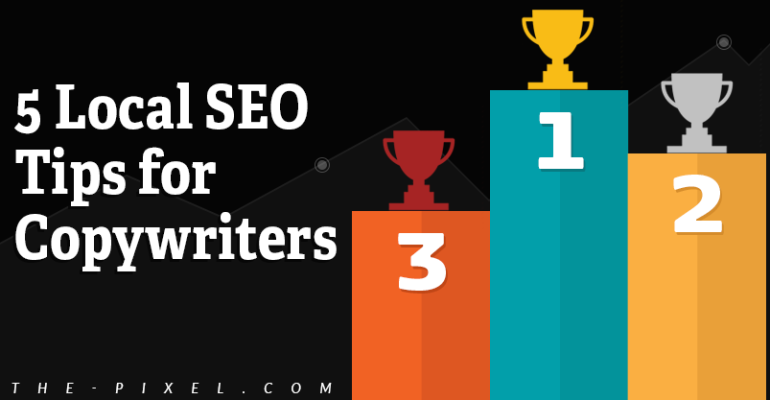 Local SEO Content Tips
Learn how to optimize your site for people searching in a geographically defined region.
43% of all Google search has local intent.
82% of smartphone shoppers conduct 'near me' searches.
The surveys and studies will continue to roll in, each proving the same core finding in different sorts of ways, but these findings always point to the fact that getting local SEO right matters a great deal for your business.
Local SEO refers to all the different ways you can optimize your site for people searching in a geographically defined region. One of the most important components of local SEO is copywriting, which essentially comprises all the written content you put on your site – and there are simple copywriting tips you can start implementing today to improve your local SEO rankings.
How exactly is copywriting influenced by SEO? Incorporating local search terms into your copy helps you target a specific group of people that are already searching for a company like yours. Here are five simple copywriting tips for local SEO that have proven to be effective time and again.
1. Optimize your title tags.
Generic title tags are one of the most common oversights made by small and medium-sized business owners today. I can't tell you how many times I have seen 'Home' or 'Services' as the page title. Choosing a generic title tag for your pages is a huge local SEO copywriting opportunity missed, as you are essentially telling Google that those pages are not about anything in particular. The bitter irony is that it's usually the home page or product pages that have the most important content for search engine optimization – especially in a local context where people want clear answers, fast.
The lesson to learn here is that if your a small and medium business owner and you manage your own site, you need to use relevant 'branded' terms – that have local intent – in the title tags for all your pages. For example, let's say you have a textiles shop in Toronto and you are looking to optimize your site for local traffic. Instead of putting "Products" as the title of a product page, you should format it this way: Primary Keyword – Secondary Keyword I Brand Name.
2. Put local regions in your h1 and h2 tags.
Another copywriting trick to boost local SEO rankings is to incorporate local regions into your H1 and H2 tags. For those who don't know, H1 and H2 tags are the HTML equivalent for the title and first heading of your article or page. These are the most important sections of your page as far as local SEO is concerned because it shows both Google and the reader that this page is about a topic with specific reference to a regional locale. To go back to the textile shop in Toronto example – When you want to target local search terms, you look into a keyword research tool and take note of the most relevant terms people are searching for in and around the GTA. Maybe it's "custom rugs", "fabric by the yard", or something similar. Once you have your keywords picked out, you need to incorporate them into the H1 or H2 of a new or existing page on your site.
3. Semantic search = Lots of keywords.
The real kicker that makes copywriting so important to local SEO has to do with semantic search. Google now ranks pages higher that have a natural array of semantically-related keywords on a page – rather than say the same keyword used only three times, and no other mention of similar terms or phrases throughout the page. The goal, in terms of boosting traffic to your blog, is to write as naturally as possible; which should mean incorporating similar keywords and phrases to your target keyword throughout an article or product page. Getting the right semantic mix of keywords is hard, but when it comes to local SEO it can be the difference between ranking #5 and #1 for your target keyword. There's a lot of high-target traffic at stake here, so you want to do your keyword research well.
4. Write for mobile – Keep it impactful and brief.
It might not suit the way you like to read, but if you want to drive local traffic then you need to write for a mobile audience. What does that mean? Impactful sentences and short paragraphs are the way forward here, as people walking around searching for a local business do not want to scroll through embellished descriptions and amateur layout mistakes. Local SEO is built on the mobile experience, which has two inter-related implications. The first is that UX matters more than ever before. The second is that, in order for UX to be great, your website copy needs to be short and concise to be impactful.
5. Include a community page.
Copywriting includes content marketing strategies, and one of the most effective content marketing strategies for targeting local content is to make a community page. The contents of the community will vary depending on your.
Link out to other local businesses
Be a resource for other sites to link to
Share some important information or updates about events in your community on an ongoing basis
Copywriting can be simple if you let it.
"There are a thousand different ways this could go."
People always say that in content marketing, but the truth is there are only a few that really bring in customers. This is especially true of copy for local SEO, a portion of search traffic made up of low traffic but hyper-specific searcher intent. These five copywriting tips should help you narrow down what to write about and keep you focused on serving the needs of your customer base.
Since our founding in 2008, we've created and launched many types of business websites. Over the last decade and we've learned a thing or two! That's why we're masters of our craft, let us help you build the website of your dreams – one that generates traffic, leads and conversions.
Are you ready to start? If yes, contact ThePixel and one of our representatives will guide you through the website phases and how the process works either by a Zoom Meeting or phone.