Why Does UX in Web Design Matter?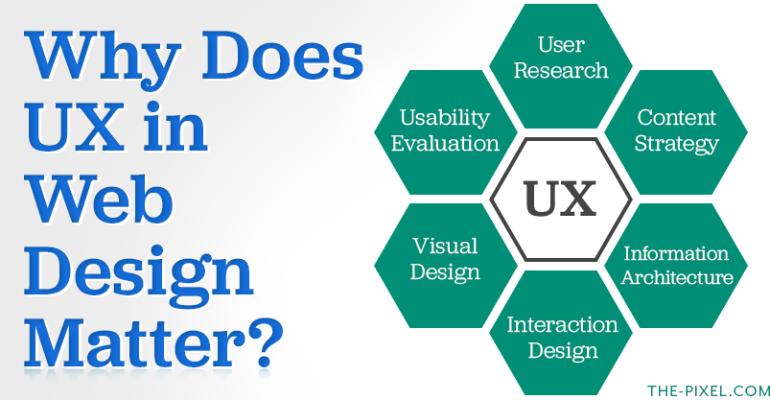 Why Does UX in Web Design Matter?
UX Will Make -or- Break Your Website Design
User experience (UX) is an often overlooked aspect of web design. In fact, when talking to people who work in similar industries, it's apparent that people aren't at all sure what UX entails. Many believe that UX is merely just the end user having a simple and non-confusing experience while navigating throughout the site.
Although having a clear path to travel through a website is certainly part of UX, it's also very important to understand the sales process, potential customers' personas, and current pain points of the business website.
From a business and marketing perspective, UX in web design is largely a discovery and implementation process covering sales funnels, information architecture, and an enjoyable and relevant experience for end users. UX not only encompasses upfront research on business and sales, but it also goes through an intensive sitemap and wire framing layout process. Wire framing can be likened to a blueprint for how a website should be laid out.
Information Gathering
The beginning stage of the process can be categorized as an information gathering stage. This stage can involve interviewing company sales representatives, as well as previous clients or customers who have gone through the entire research and selection process of buying the product or service. From the sales perspective, sales representatives should be able to help identify pain points where they have difficulty closing sales or bring to light areas where customers may lack certain knowledge to make a decision on a product.
Interviewing previous customers can be extremely valuable for understanding their motives. This also gives you the chance to segment your customers into different buyer personas so that you can target and create content specific to each type of customer.
Often, sales representatives feel that they understand the personas and pain points of their customers, but I have seen firsthand how these can often be misconceptions. Interviewing past customers may not only introduce your marketing and sales team to a new segment of buyer personas that they have missed, but it's also an opportunity to understand the rationale that led to them ultimately buying the product rather than a competitor's product.
Information Architecture
Once the preliminary information gathering phase has been completed, the user experience specialist can build out a sitemap and wireframe key pages based on the data collected. In this stage, a business might find that—based on the data collected—it needs to consolidate or build out new pages to accommodate what was gathered in the previous step. The sitemap gives a basic user flow of how all the pages are laid out, often providing insight into how the main navigation will guide users.
Once the sitemap is completed, the UX specialist can start building out a wireframe for the homepage and key pages. The wireframe is a basic structure that shows how a page will look and function, taking into account best practices to drive users to become customers.
Key components of the wireframes include call-to-action links, which guide the user to the appropriate service or sales funnel and provide information to point them in the correct direction. The homepage is obviously the most important page in this step because, in many ways, it acts as a filtering mechanism that helps the user locate the information or pages they may be looking for. A UX specialist will be able to guide the company on how to best present information without giving the client decision fatigue.
Design, Development, and Copy
Once the wireframes and information architecture have been fleshed out, the UX specialist can help guide a web designer and copywriter so that the use of research and data is carried through to the final stages when the site ultimately goes into development.
Using a marketing automation software like HubSpot to build the website opens the opportunity for further segmentation by tracking user behavior and only showing content that may be relevant to the user's particular place in the Buyer's Journey.
UX is intertwined with marketing, sales, and design, and should not be overlooked because it is the foundation of a website that can deliver results for a business. If a business doesn't lay a proper foundation in the beginning, it might end up going through constant iterations of testing and changes to achieve the desired end result.
Since our founding in 2008, we've created and launched many types of business websites. Over the last decade and we've learned a thing or two! That's why we're masters of our craft, let us help you build the website of your dreams – one that generates traffic, leads and conversions.
Are you ready to start? If yes, contact ThePixel and one of our representatives will guide you through the website phases and how the process works either by a Zoom Meeting or phone.