Why People Leave Your Website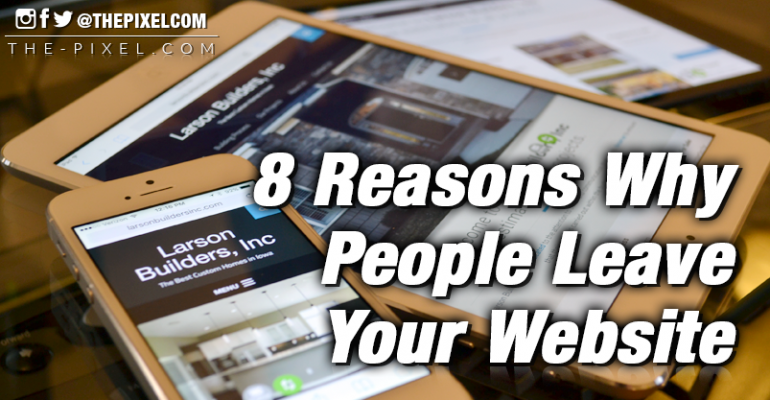 Why People Leave Your Website
8 Reasons Why People Leave Your Website
Creating a website or blog for your business can be a huge project. Once you've got everything up and running, discovering that you have a high bounce rate can be disheartening. Visitors leave your site for many reasons, not all of which are under your control.
As you try to increase traffic on your site, consider these 8 factors that can help you keep visitors around.
1. Mobile Optimization
More than half of the U.S. population owns a smartphone, according to Pew Research. If your website isn't optimized for mobile phones and devices, it's going to annoy visitors and prompt them to leave your site and head to a competitors site instead. Plus, not having your site optimized for mobile can result in a penalty from Google.
When you design your site, make sure you check to see how it appears on different mobile devices.
2. Confusing Navigation
Don't underestimate the importance of having a user-friendly site. Can your visitors easily navigate around the site? You have a limited amount of time to catch your visitors' interest, and poor site usability can drive them away.
This is important especially if you're selling products and services on your site and collecting digital payments. You don't want customers to be confused about where to go when they want to make a purchase.
You want visitors clicking around your website because there are lots of great products and content to explore, not because they're lost. The more scouring that users have to do to find what they're looking, the more likely it is that they will bounce off your site and seek out a competitor.
If you're losing customers because ease-of-navigation wasn't enough of a priority in your original web design, we've got the solutions for you. Follow our website navigation design usability checklist for a user-friendly redesign that will improve your bounce and conversion rates.
As you approach the new navigation structure in your redesign, you should always have three general principles in mind:
Be consistent and predictable
Keep it simple
Be minimalist, but not boring
A user should be able to make sense of your site within seconds of landing on any page. For any subsequent pages they visit, it's essential for them to find the same theme, structure, and navigation. Giving them inconsistency in any of those components will only frustrate them and drive them away.
3. Slow Load Time
People are accustomed to speedy websites and they carry this expectation everywhere they go on the Internet. Avoid slow web hosts, large page elements, and poorly coded pages to enhance the user experience and prevent them from having to wait on your site to load completely.
If you've done any searching around the web around website speed or fast WordPress hosting you'll see a bunch of scary stats thrown around. You'll see things like "every 1 second of speed equates to 1% less conversion rate" and similar.
I don't know how correct these numbers are, or the testing methodology being used but I'm guessing we can both agree faster websites=better, right?
There's really no argument about whether speed is important, it's even part of Google's search algorithm, faster loading sites rank higher!
4. Distracting Ads
Be careful when it comes to putting tons of ads on your site. Visitors come to your page because they're interested in your small business, an offer on your landing page or your website content. Too many ads can distract from this experience.
5. Autoplaying Media
Autoplaying media is kind of outdated and doesn't add much value to the website. I personally, always pause autoplaying media or just click off the site because it seems like more of a distraction.
If you're going to have a video on your site, be sure to give visitors the option to play it if they wish but don't make it mandatory
6. Font Selection
Your website's font is another important but unfortunately commonly overlooked factor that could contribute to a high bounce rate. Be sure to use a site that is clear and easy-to-read. If you have an elaborate font for your brand, be sure to limit the usage on your site to avoid overdoing it.
Also, test out different sizes for the font on your website and ask others about what they think for a second opinion.
7. Personalization
Your prospective customers see dozens of websites throughout the day so be sure show your personality and brand's unique message in order to stand out from your competition and keep them around. You can also provide a unique offer on the home page or offer up tons of valuable content on your blog.
Everyone understands that content is king, but in reality, content is only king if it's relevant. When someone visits your website, they want to know how and why you are the right fit for them, not someone kind of like them. That is why personalizing web content is such an effective way to help your organization convert leads. In fact, according to Microsoft, web content personalization can lead to a 30% increase in conversion rates. Today we'll talk about what web content personalization is and a few tips to make it happen for your website.
8. Overall Design
Does your design look like it's outdated? You don't need to be on the cutting edge of web design trends, but you should have a design that looks like it belongs in the current decade.
This will add credibility and keep visitors on your site longer because they'll be more trusting of what you have to say.
Summary
Your online presence is a valuable tool for getting new customers and growing your business. You don't want your website to turn leads away with a high bounce rate.
You spent a lot of time figuring out how to increase your website traffic, now it's time to implement these tweaks to keep them around.
Since our founding in 2008, we've created and launched many types of business websites. Over the last decade and we've learned a thing or two! That's why we're masters of our craft, let us help you build the website of your dreams – one that generates traffic, leads and conversions.
Are you ready to start? If yes, contact ThePixel and one of our representatives will guide you through the website phases and how the process works either by a Zoom Meeting or phone.