8 Indicators Your Website is Failing
8 Indicators Your Website is Failing
Your website is a digital storefront for your small business. And because it's one of the first things a potential customer sees about your company, you better be making a good first impression.
But, how can you expect to make a positive impression if your business website is outdated and ugly? Would you show up to a formal interview wearing shorts and a T-shirt? Or, would you dress to impress? My guess is (if you want the job) you'll do the latter.
So… shouldn't your business website dress to impress, too?
A sloppy business website could spell doom for your venture. To know if your website is giving a bad first impression, you need to look out for a few red flags.
A sloppy business website could spell doom for your venture.
Before we dive into indicators that your business website is falling through the cracks, let's take a look-see at the characteristics your business website should strive for.
Here are some characteristics of an business website:
Quick
Well-formatted content
Consistent
Attractive design
Compatible with multiple devices (e.g., smartphones)
As you can tell, there are many things that visitors look for when they go to a website. And if you don't give people what they're looking for, they'll scurry away to another website that does.
Be on the lookout for these eight indicators that your business website is going bad.
1. Content is falling flat
According to Hubspot, 38% of people will stop engaging with a website if the content is unattractive. And if your content is falling flat, your business website as a whole most likely is, too.
No one wants to read or look at dull content. If you want to spruce up your website, stop posting stale content and update it instead.
When you add content to your website, have some fun with it. Make it enticing, use fun colors, and include visuals and videos. Freshening up your content can bring in more traffic and (hopefully) more leads and customers.
If you want to make things easier for yourself in the long run, try to make your content as evergreen as possible. That way, you can avoid constantly updating information and save time for other tasks at your small business.
2. Navigation is a nightmare
User experience can make or break a customer's opinion about your business. Are your users screaming at their computers or smartphones? You may never know. But if your website's navigation is a nightmare, you can assume they are.
So, how do you go about cleaning up navigation blunders? The answer is simple: look at your website for yourself. Consider going through your website to discover different pain points.
You can also ask a friend or loyal customer to navigate through your website. After all, it doesn't hurt to get a set of fresh eyes. Not to mention, customer feedback can give you insight on the best course of action for your website navigation.
Once you narrow down navigation issues, you can begin to create a game plan to smooth things out.
3. Unclear calls-to-action
A clear call-to-action (CTA) tells visitors what their next move should be. But if your website is lacking CTAs or displaying unclear ones, your site visitors likely won't know what step to take next.
If you want to get your business website back on track, give your CTAs a little love. Make sure your call-to-action grabs your visitors' attention. Don't be afraid to use bold-colored buttons to help draw attention and clicks.
In addition to playing around with your color scheme, make sure you craft compelling messages that will make a visitor want to click on your CTA. Otherwise, you'll be left with some ineffective (and frankly, boring) CTAs on your pages.
Test out wording to see what visitors click on the most. A simple change from "Book Here" to "Book Your Next Adventure" can make a world of difference.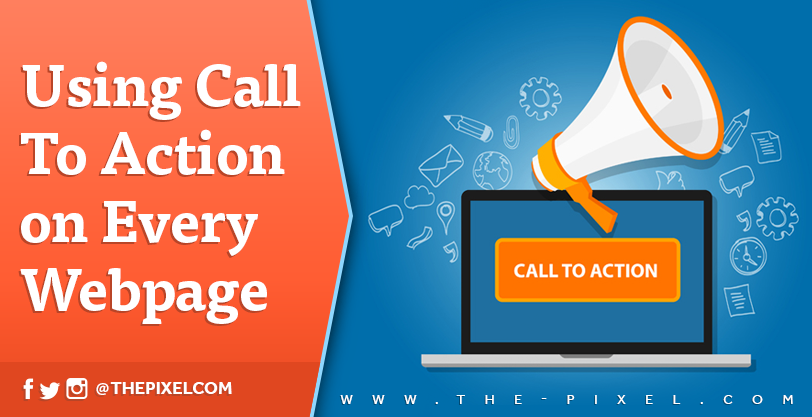 4. Your website moves at a snail's pace
How long does it take your business's website to load? Five seconds? 10 seconds? If you find your company's website is moving at a snail's pace, it could be a telltale sign that something is amiss.
Regardless of if your users are on a smartphone or desktop computer, no one likes waiting around for a page to load. And if your website is slow, it could also be slowing down your business. So, what's a business owner to do?
Narrow down what's causing your website to be snail-like. Look at things like your website's:
Coding
Design
File sizes
Server
Failing to speed up your website's speed in this digital age can result in negative user experience and lost potential customers.
5. Bounce rate has skyrocketed
How's your bounce rate lookin' these days? Is it stable? Has it decreased? Or… has it skyrocketed? If bounce rate numbers are climbing, it might be a sign that your website is trickling down the drain.
Unsure of what is a bounce rate? No worries, we'll brush up on it. Your bounce rate represents the percentage of visitors that come to your website and leave without clicking on anything. In short, they're bouncing off your page and onto someone else's (aka your competitors' websites).
A struggling bounce rate means it's time to revamp your business website. Shake things up with your design and content to get users more engaged. Remember, a first impression is everything.
6. Your website and mobile devices don't get along
Is your business website compatible with mobile devices? Or, do mobile devices and your website have a rocky relationship? If you relate to the latter, your website could be quickly sinking.
If you want your business website to thrive, make it mobile-friendly. Chances are, the less mobile-friendly your website is, the less traffic you'll get.
7. Conversion rates are plummeting
What do sales, leads, brand ambassadors, and loyal customers all have in common? They are all things small businesses hope to earn through their website. But if your website isn't delivering these things, you'll find your conversion rates dwindling.
Your business website may need a makeover if your conversions are dropping like flies.
If you want to boost your conversion rates, make your website more attractive, user-friendly, and credible. To improve conversions, you can:
Add customer testimonials
Clearly state your product or service's benefits
Use videos and visuals
Incorporate strong CTAs
Test color combinations and content
8. Your business is nonexistent in search results
When you search for something online, how many of you go to the second, third, or even fourth page of results? I'm guessing none of you raised your hands (partially because I can't see you).
So, how can you ensure your business's website is located in the prime real estate of the world wide web?
If you want your website to be #1 in search engines, you need to:
Invest more time in SEO
Optimize your website with keywords
Improve web design
Post relevant content
Continually update information
Do SEO research to find out what your target audience is searching for. Beef up your business website with specific keywords related to your products or services. If you want to make it to page one, your SEO efforts can't be skimpy.
Since our founding in 2008, we've created and launched many types of business websites. Over the last decade and we've learned a thing or two! That's why we're masters of our craft, let us help you build the website of your dreams – one that generates traffic, leads and conversions. All websites created at ThePixel include:
Are you ready to start? If yes, contact ThePixel and one of our representatives will guide you through the website phases and how the process works either by a Zoom Meeting or phone.