How a Well Designed B2B Website Builds Confidence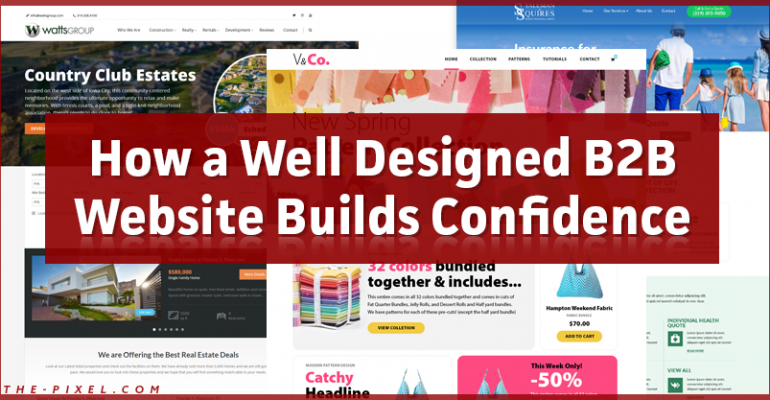 How a Well Designed B2B Website Builds Confidence
5 website design tips to build your B2B website
In the era of pandemics, your B2B website is literally the front door to your business operations. To be part of the future is to have an effective, professional and efficient online presence. Your business has 7 seconds to make a great first impression on a prospect visiting your website—here are 5 tips on how to succeed.
1. Clear and Consistent Message
Website visitors won't make an effort to read your entire website before making a quick assessment about staying, so keep things simple. Your website's homepage should be doing what a first-time meeting would—providing a high-level overview of your products and/or services, along with prompts to dive deeper. Begin with strong headlines, and content that clearly outlines the benefits of buying from you.
2. Professional B2B Web Design That Supports Your Brand
There is a saying by digital designer Adam Judge, "The alternative to good design is always bad design. There is no such thing as no design." When people work with a company, they want to know they're working with professionals. Investing in professional website design shows that your business values professionalism and sends a powerful message to potential clients or customers.
High-quality imagery, and intuitive, thoughtful UX/UI are more than just "pretty" – they are a smart business move.
3. Clear Call-To-Action
Want more conversions? Sometimes it can be as simple as just asking or prompting a user. You don't need just any call-to-action (CTA); you want a strong one that convinces people to act.
There are two main purposes of a call to action: to tell someone what they should do, and to give them the motivation and confidence to do so. Focus on the benefits to the user—and keep the message short and sweet. More importantly, make sure that your users can find your CTA — strategic use of color, type, and placement make your call-to-action stand out.
4. Informative Content
Content provides information to educate customers, and search engines, about your B2B website. Informative content can boost SEO, and your business's credibility.
How does informative, timely content increase website hits? Items like blog articles, downloadable resources, and case studies can boost SEO quality by positioning your website as a relevant answer to your customers' questions— giving you more opportunities to rank in search engines and bringing more prospects to your website. Creating personalized content strategy targets your audience and builds your customer relationship(s).
5. Intuitive Navigation
Making navigation simple and easy to understand helps users avoid friction and dissatisfaction. According to a survey by Clutch, 94% of consumers say they want an easy to navigate website. Easy navigation features should be top priority when creating a new B2B web design. By adding simple, responsive navigation toolbars and menus, companies create an intuitive user experience.
If your site lacks effective navigation, it is not going to work for your business the way you need it to. Website visitors typically want to know three things during their visit to your site: 'Where am I?', 'Where have I been?' and 'Where else can I go?' By visibly demonstrating these answers within your navigational structure, visitors will remain on your site longer, reinforcing the likelihood of valuable conversions.
Every touchpoint a customer or potential customer has with your product or company shapes their view of you. Improving your digital presence with a well-designed B2B website is one of the best investments you can make right now.
Since our founding in 2008, we've created and launched many types of business websites. Over the last decade and we've learned a thing or two! That's why we're masters of our craft, let us help you build the website of your dreams – one that generates traffic, leads and conversions.
Are you ready to start? If yes, contact ThePixel and one of our representatives will guide you through the website phases and how the process works either by a Zoom Meeting or phone.