How to Nail a Successful Website Redesign in 6 Steps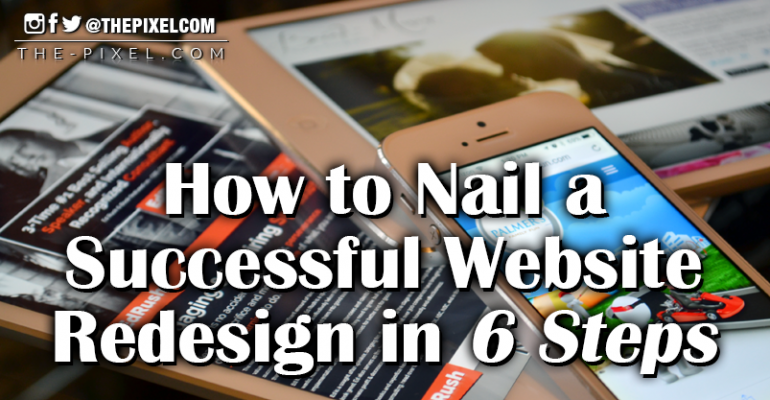 How to Nail a Successful Website Redesign in 6 Steps
A website redesign can drive increased revenue, improved customer loyalty and better business results.
A website redesign is a commonly employed tactic for companies seeking improved digital results. The thought process goes something like: I'm not achieving the traffic, engagement or sales I want online because my site sucks.
That may very well be true. But, by the same token, a website redesign may make little difference to performance. So how can you ensure yours generates the results you want?
Why redesign your website?
The rise of digital continues at a staggering rate, with total digital media usage up 40% between December 2016 and December 2019, according to comScore.
This offers great opportunity, with businesses everywhere constantly trying to evolve and innovate as they seek to capitalize on this trend to drive successful outcomes.
As you constantly think about ways to optimize performance, a website redesign can drive increased revenue, improved customer loyalty and better business results.
What things do you need to think about when initiating a website redesign project?
The digital evolution has had a huge impact on customer – not to mention human – behavior. And the pace of change has been rapid. Keeping up can seem hard and what worked 15, ten or five years ago is unlikely to work today.
To give you an idea of what I'm talking about, here are some stats I thought really proved this point.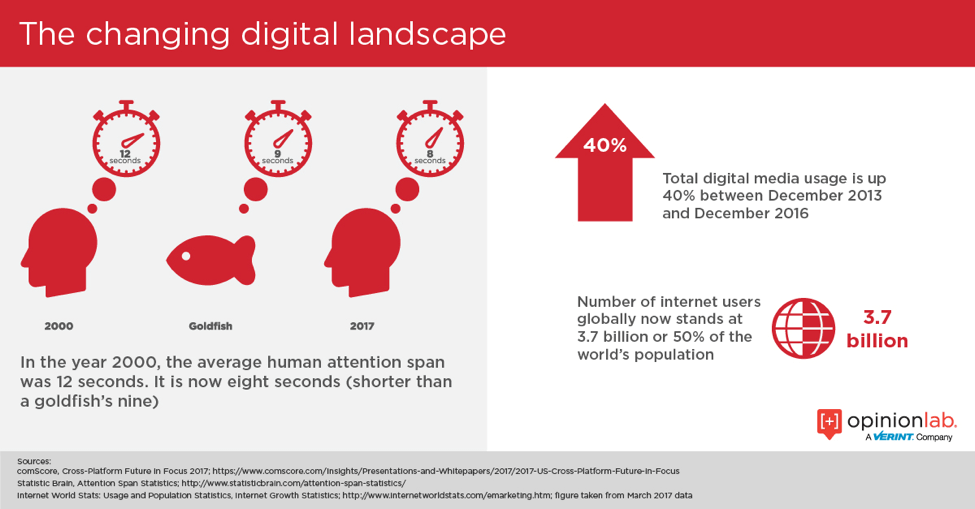 Think about that for a second: the impact of digital has been so great, it has shortened our attention span. Pretty amazing stuff.
If we then look more closely at internet growth since 2000, the findings are revealing. Overall global growth in this time stands at 990.6%. This figure – while staggering – might not be completely surprising. Dig a little deeper and you see growth is being driven primarily by developing nations such as China, India, Brazil, Indonesia, Russia and Nigeria.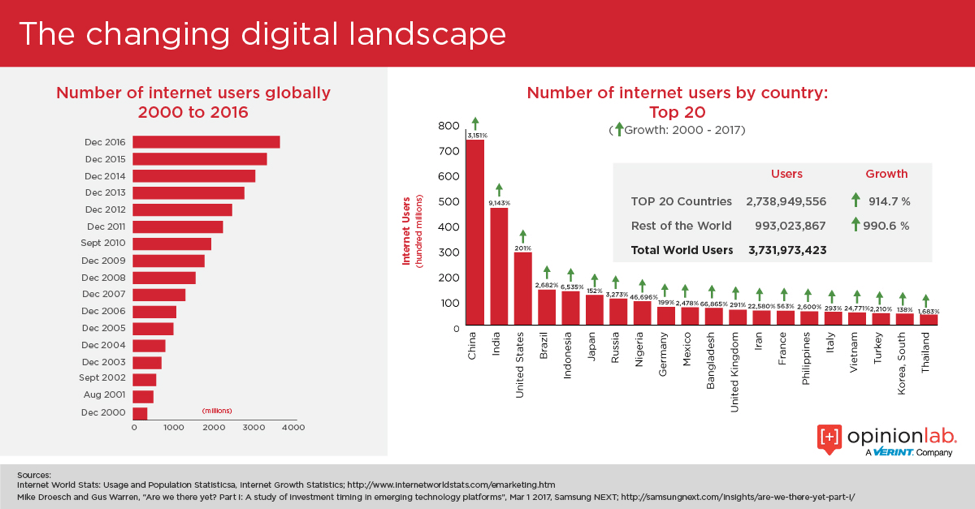 Depending on the focus of your business, this country-specific insight may very well be of interest.
Overall, digital consumption is evolving fast and there is more competition for customer mind share than there has ever been.
What does this mean if you're in the midst of a website redesign? You need to be clear and succinct in delivering your message and you need to grab your customers' attention quickly. If you don't, they'll go elsewhere.
In such a competitive landscape, how can you redesign your website for desired results – be this improved customer loyalty, increased revenue or however else you measure digital success? Read on to learn how to redesign your website in six steps.
Step #1: Be sure a website redesign is absolutely necessary
As your main touchpoint with your customers, your website is the primary face of your business and critical to your success. So you're no doubt constantly thinking about ways to optimize and improve.
A website redesign can have a massive effect on the success of your business. But – equally – it can also result in little or no impact or, worse still, actually end up being detrimental.
So, the first step is understanding your goal and the steps to take to achieve this. Beyond that, you should then – as much as it's possible – forecast the impact of any future changes you make before pursuing them.
Being sure a website redesign is absolutely necessary is a critical part of this process. The Harvard Business Review talks about the 9x effect. That is:
"Consumers overvalue the existing benefits of an entrenched product by a factor of three, while developers overvalue the new benefits of their innovation by a factor of three. The result is a mismatch of nine to one, or 9x."
In other words, overestimating how bad and/or ineffective your existing website is and the impact of any changes you have in mind is common. Don't fall into this trap.
Remember that your customers will be highly accustomed to your existing website so will need to get used to any changes. You should therefore use all the information sources available to you to be sure that any updates will have your desired impact.
Why a website redesign might not be necessary
There are a ton of reasons why you might think a website redesign is a good idea that actually don't stack up in reality. Here are a few of them:
You haven't refreshed for a while so it must be time. This is really common. Questions to ask yourself: Do your customers feel the same way or are they actually getting everything they want from your site? Would a website redesign drive improved results? Would smaller changes to the content, structure, or customer journey have bigger impact?
Bounce rates are high. Yep, this is a big problem. But what's the cause? Have you considered a content refresh? Perhaps the copy, product/services information or equivalent isn't grabbing your customers' attention.
Your business has grown. Your business has grown so your website should too, right? Not necessarily. Is your site performing well and doing what it should be? If so, maybe smaller incremental changes might have the desired impact.
Customers are complaining. Do you know why? An effective VoC program will enable you to capture the necessary insights to inform you of exactly the action you need to take to improve website CX. This will help you understand whether a website redesign is worthwhile.
Your site isn't up-to-date with modern design standards. There are a ton of beautifully designed websites out there. Maybe yours doesn't look as nice as the best of the best. But while fonts, imagery and general look-and-feel do count for something, they're not the be all and end all. Most important of all, are your customers getting what they need from your site? If they are, tread carefully.
The first question to ask yourself before pursuing a website redesign project is: does my site currently drive desired results? And, if not, does the data-driven evidence I have at my disposal indicate – in certain terms – that redesigning my entire site (or parts of it) will solve this problem? If the answer to this second question is "yes", read on.
Step #2: Create a website redesign baseline
So you've decided a website redesign is the way forward? The first action you should take before making any changes is to create a collection of baseline metrics assessing the overall success of your site at any given time. Ideally, you should apply this analysis right down to the page level.
This is critical because it:
creates a clear benchmark for you to refer to
enables you to understand the impact of each and every change you make
ensures you gain clarity, understanding and consensus on the goals of the project from the very outset
While web analytics – such as visitor levels, bounce rate, time on page, conversion rates and more – should be a key part of your analysis, also consider building in-the-moment digital customer feedback (such as individual page ratings) into your assessment.
This ensures you factor highly specific, targeted customer sentiment – a key driver of business success – and can make comparisons over time.
Rand Fishkin of Moz, sums this up well: "What you measure is what you're able to improve. While there's no one magic solution that works for everyone, setting yourself up for success involves measuring your traffic metrics the right way, so you can identify areas to work on and implement the right actions."
Step #3: Involve your most important stakeholders
Should you canvas the opinion of your own staff when redesigning your website? Sure. They are most likely in the site every day and can bring valuable insights to the table.
However, they are not the ones who will ultimately determine its success – or otherwise.
The most important stakeholders are your customers. And here is some supporting evidence for this statement.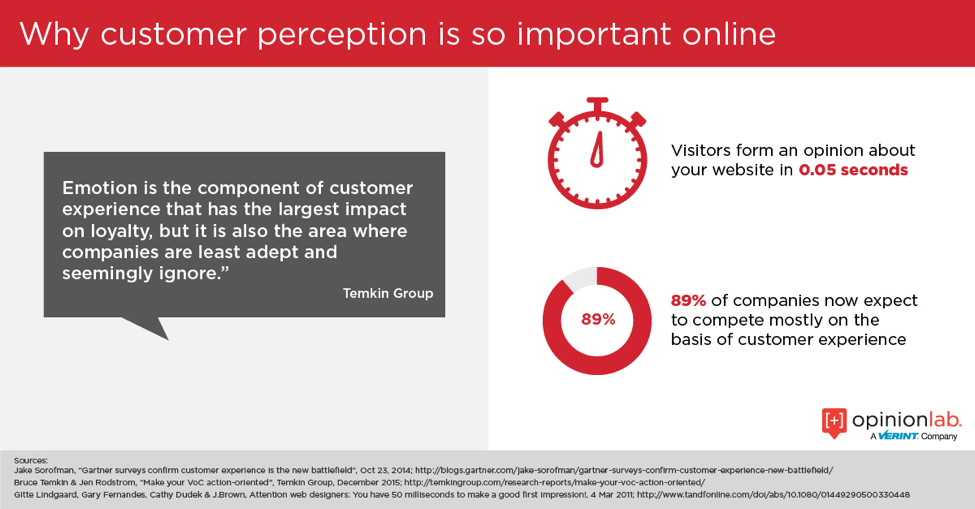 How your customers react to your website redesign is ultimately what will dictate whether it's a hit or a miss. Ensuring they have a say in the changes you make is therefore extremely important.
How can you do this effectively?
First, you need to get a firm, accurate handle on what they think of your existing website. What do they like about it? What don't they like about it? How does the new website make them feel? What needs to change? How would this impact performance in the areas that matter?
So you need to capture customer insight throughout the website redesign process. Unless you can predict the future, you're unlikely to nail every single aspect of your website redesign.
But how do you do this?
There are four different data sources you should monitor:
Web analytics – helps to identify where potential issues exist.
Direct customer feedback – When customers provide feedback in a format you've requested (e.g. dedicated form or survey); if captured at the page level, this provides targeted insight to drive very specific and impactful improvements that ensure you make changes in line with customer preferences that affect key business metrics.
Indirect customer feedback – feedback about you not directed at you (e.g. social media); highly visible information can not only be damaging but, if taken on board and valued, extremely actionable.
Inferred customer feedback – what your customers would say about you if they were asked at any given time (e.g. for example behavioral analytics, such as session replay technologies) – provides excellent insight into how your customers think about and interact with your site.
There is simply no way you could reasonably expect to cover every base – these are real journeys from real customers. Tap into this information to inform your website experience from start to finish.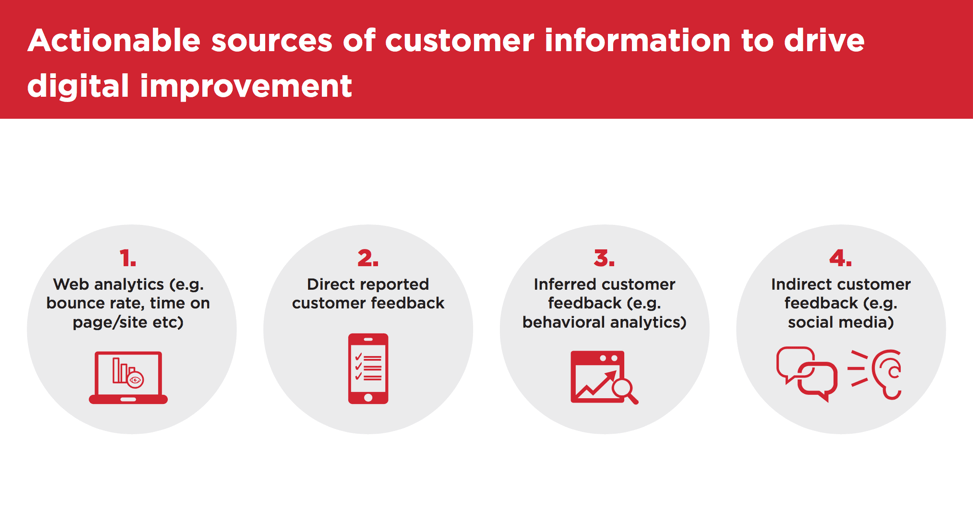 Step 4: Design for mobile
Mobile has become integral to the way we now live our lives. This isn't new news but it is extremely important in the context of a website redesign. Some even argue you should think "mobile first" when overhauling your site.
Samsung Next recently put together the below model based on numerous reliable data sources to highlight the pace of consumer technology adoption in recent years. This is supported by the charts on the right, the bottom courtesy of same article and the top via comScore (cited in the Smart Insights blog).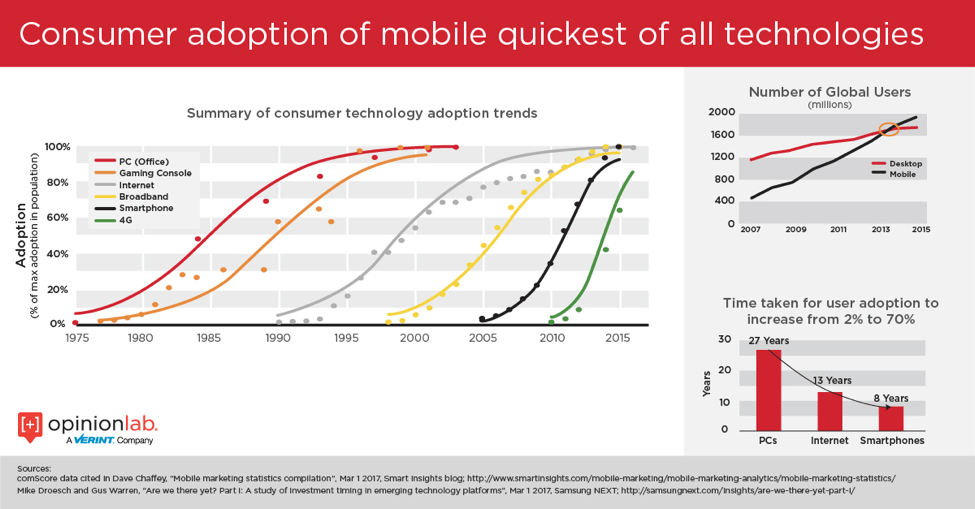 Bottom line: mobile is here to stay and will only continue to dominate overall digital consumption. So when it comes to your website redesign strategy, you need to act accordingly.
A mobile responsive site is a must. But, beyond that, you should think about the mobile experience your site delivers and how this complements the rest of your CX.
Throughout the website redesign process, you should therefore be constantly assessing and testing how each and every change will impact your customers' mobile CX.
Step 5: Think of your website as a portal to everything you do
Although mobile should be a critical component of your digital strategy, you need to think even bigger picture.
In reality, your website is a portal or gateway to all further interactions – whether physical or digital.
If you think about how customers now cross channels seamlessly as they engage with you, digital is at the heart of it all. So you need to create a website design accordingly.
If you nail this part of your website redesign strategy, the benefits are significant. According to the Aberdeen Group, companies with strongest omnichannel strategies experience 9.5% year-over-year increase in annual revenue (compared to 3.4% for the weakest).
Likewise, 89% of what Salesforce considers to be "high performers" agree that a connected customer journey across all touchpoints and channels positively impacts growth.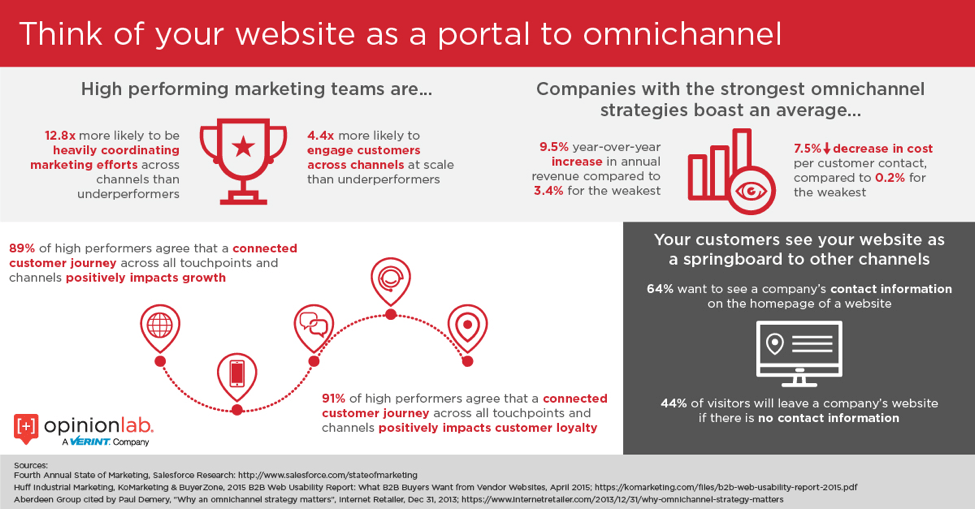 You should consider all the points that your customers could enter and exit your digital experience to enter other channels. Facilitate these transitions to make them as seamless and easy as possible.
The result? They are more likely to follow their task through to completion, which is your ultimate goal.
A further consequence is that – as a business – you also set each and every channel up for success.
A high proportion of your customer base more than likely goes to your website first if they have an inquiry and want further information. Many of these inquiries will involve or exclusively be in reference to other channels.
So ensure you make this channel crossover easy.
This could be as simple as providing a visible contact phone number on your site. Or as complex as an entire digital campaign hosted on your website to drive traffic to your brick-and-mortar network.
Either way, you need to ensure you harness your website to promote and facilitate the entirety of your omnichannel experience.
Step 6: Test and measure: Constantly iterate and improve
The goal of any website redesign project should be that it never has to be repeated. If you think about the leading sites in your industry, how many have been subject to a recent major redesign? It's unlikely that this will be a long list.
Instead, the best sites are typically updated through constant smaller iterations and improvements that add up over time. These can be tested, measured and repeated as appropriate.
As a result, you enhance your digital experience constantly while mitigating the types of risk associated with wholesale changes.
Regardless, any action you take should be underpinned by the main objective of having a website in the first place – whether it's regarded as a sales vehicle, a customer engagement tool or a projection of your brand identity. It should then be assessed against data and analytics laddering up to this goal.
Conclusion
A website redesign is a common tactic for businesses seeking to improve online performance.
However, many of these projects fail to achieve their desired results for a whole range of reasons. But there are a number of steps you can take to avoid this scenario.
Before you even do anything, you need to be sure that a website redesign project is absolutely necessary. By this, I mean assess that your proposed changes will have the impact you seek and ladder up to broader business goals.
Before you embark on the project, you should then establish baseline metrics for future comparisons. This enables you to track impact before, during and after your website redesign process.
You also need to remember you're not just building for desktop any more. You need to think about how your website redesign impacts mobile and every other engagement channel.
Beyond that, the ultimate aim should be to never have to redesign your site ever again. Instead, you should be aiming for constant smaller improvements and iterations aimed at achieving better results.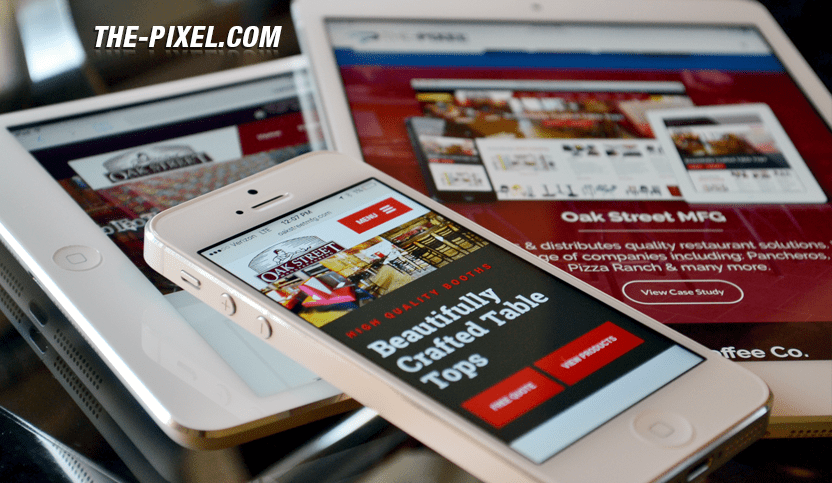 Most important of all, you should engage your customers throughout the process. After all, these are the people who will determine whether it's a success or failure.
Understanding what your customers want throughout your website redesign means it will generate the results you want.
If you'd like to know more about how your VoC and digital feedback will ensure an awesome website redesign, download the OpinionLab eBook.
Your website redesign baseline measure is a great barometer to refer back to for this purpose.
Studies prove this point. According to Forbes, 64% of marketing executives "strongly agree" that data-driven marketing is crucial to success in a hypercompetitive global economy. The same publication also reports that leaders in data-driven marketing are more than six times more likely than laggards to report achieving competitive advantage in increasing profitability.
But how do you identify opportunities for improvement? Digital customer feedback harnesses your VoC to provide the insight to drive these incremental changes.
Empowering your customers to share their thoughts on their own terms throughout your digital experience provides highly actionable and diagnostic insight. This specific information allows you to target your website refresh efforts with precision to ensure optimal desired impact.