One Page Website Templates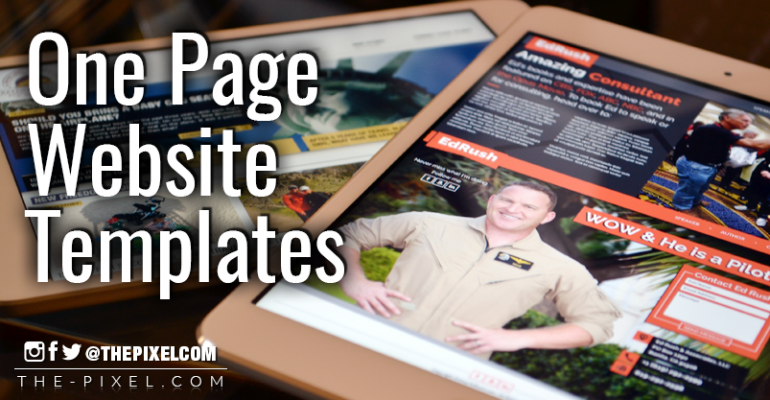 One Page Website Templates
Make Your One Page Website Today
Most websites use a multi-page structure to organize their information and include all the details about a company, business, or a person. But, websites can be simplified dramatically and be just as effective—or even more so.
You can make a targeted website with a single page design and present all your relevant information more concisely. In some cases, a one page website is exactly what you need to showcase your new product or service.
One Page Websites Are Quick to Make and Highly Targeted
The benefit of a one page approach is that visitors can get all the information they need quickly—without them having to click through an enormous number of pages that would slow them down. With a single page site design it's easier to target your audience and lead them to a desired action.
It also allows you, as the website owner, to eliminate all the fluff and make your new site fast. This is especially great if you're on a tight deadline to launch a new one page website for a company or marketing initiative.
What to Look for in a Great One Page Website Template
One page HTML site templates have a few key benefits that will help you share all the information quickly, without overwhelming your visitors. Here's a list of what to look for in a great one page website template:
Responsive Design  – Responsive design is a must nowadays and for a one page HTML site template it's even more important, considering the need to present a lot of information in a limited amount of space.
Sticky or an Off-Canvas Menu – A sticky menu stays in place and will ensure your visitors can access different sections of your website, without having to scroll up and down all the time. If a sticky menu is not available, consider a template that uses an off-canvas menu which can be triggered with a simple click of a button.
Several Sections – In a one page template, you're limited to one page only. That's why it's crucial that your chosen template has enough section designs built in or that the sections can be replicated with ease to allow you to include everything a potential client needs to know about your company.
Call to Action Button (CTAs) – The space available to encourage your visitors to take action is not as plentiful as it is with multipage websites. Make sure your template of choice includes several places where you can easily include a call-to-action—whether that's getting in touch with you or filling out an inquiry form.
Full-Screen Backgrounds – A number of the one page site templates we feature in this article include a full-screen background that uses either an image, a slider, or a video. They also use parallax effects, which helps bring attention to various sections and makes the site visually more interesting.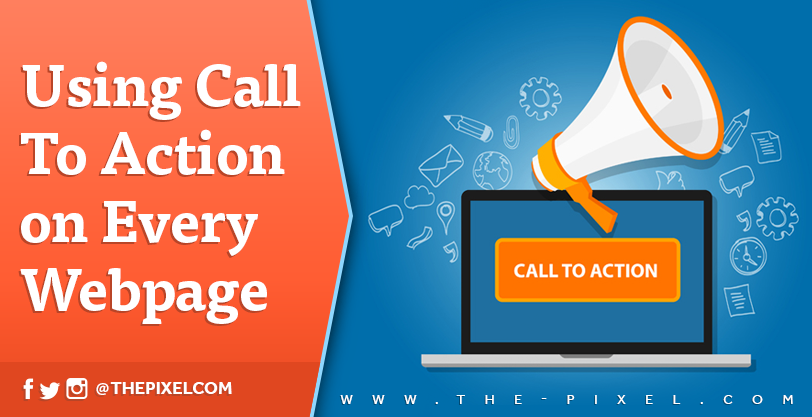 5 Quick One Page Website Tips
Making a one page website seems simple at first glance, but if you're not careful with how you present and organize your information, it can quickly turn into a jumbled mess.
1. Ensure Images Appear Crisp and Resize Properly
One page websites are known to use full-screen background images. They break down the page and serve as a visual guide to denote different sections. As such, it's imperative to ensure your images aren't blurry and that they aren't cut off on smaller screens.
2. Be Clear and Succinct in Your Copy
With limited space available, take care to use a clear and direct message. Include the necessary information about your company and the services you provide. Avoid including unnecessary information or consider using a video to share more details.
3. Include Multiple Calls-to-Action
Forgetting calls to action may be the biggest mistake you can make. After all, sharing all the information will be useless, unless you tell the visitors what you want them to do. Sections with background images are the perfect place to include your call-to-action, so make use of them and let visitors know what they should do.
4. Make Your Navigation Easy to Use
Navigation is one of the most important elements on any website, that goes for one page sites as well. Make sure all the sections are included in your menu so visitors can easily jump between sections. Be sure to use a sticky menu and have your navigation always accessible.
5. Provide Social Proof With Testimonials
You have less space to convince a potential client that you are the right person for their project with a one page website. Using testimonials is an excellent way of showing your expertise and letting them see that others have had a pleasant experience working with you.