Boost Your Off-Page SEO Strategy
Boost Your Off-Page SEO Strategy
3 Powerful Ways to Boost Your Off-Page SEO Strategy
As digital marketers, most of you already know that there are two different ways to improve your SEO strategy. One is on-page SEO, and the other is off-page SEO. The steps you take on your website to boost your search ranking are called on-page SEO.
Off-page SEO, on the other hand, is just the opposite. Everything you do outside your website to boost your search results is known as off-page SEO.
Many digital marketers don't consider off-page SEO as part of their SEO strategy. But in doing so, you fail to realize that by investing a little time and effort to improve your off-page SEO, you can massively improve your marketing strategy, build credibility, and attract more leads for your business. Website Optimization Best Practices.
Besides, working on your off-page SEO also helps in improving your domain authority. As a result, you will start ranking better in search results. So let's find out a few ways to improve your off-page SEO.
1. Backlinking
One of the easiest ways to boost your off-page SEO is to build some solid backlinks for your website. Building backlinks is important to let Google know that another source also finds your content helpful. And as such, they have considered linking back to your content from within their own content.
Seeing other businesses linking back to your articles, search engines start looking at your content as a credible source worthy of being ranked in SERPs. So your content starts showing up in search results, and it becomes easier to attract more leads to your website.
There are various ways of creating backlinks. One of them is through guest posting. It's a great way to redirect the audience of another blog to your website and boost your traffic. To start guest posting, just Google 'write for us', and you'll find several blogs in your search results.
All of these blogs accept guest posts for their blogs. But it's up to you to pick the right blog that will help you reach your goals. The best way to do that is to look for guest posting opportunities in blogs that have a similar target audience as yours. That way, your readers will be able to connect with your content better, and they will be more willing to visit your blog with the hope of finding some helpful content for themselves.
2. Leverage the Power of Social Media
Another amazing way to boost your off-page SEO is to leverage the power of social media. Social signals matter when it comes to improving your search results. It helps you win more audience and results in Google to like your content and rank them in search results. The more shares you get, the more favorable it is for you.
Social media can help you do that. Just create a page for your business and use it to attract followers to your website. You can do that by creating relevant and engaging content like research-backed articles, infographics, etc., for your audience. Also, every time someone mentions you, it will be counted as a backlink.
But to increase your reach audience, you need to actively engage with your audience by replying to comments, liking their posts, etc. This will boost your visibility, and if your content is good enough, they will automatically click on your links and land on your website. This, in turn, will help you increase your traffic.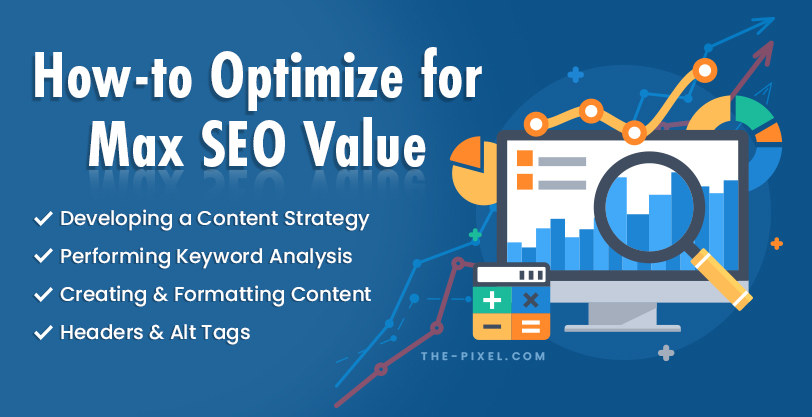 3. Improve your E-A-T
E-A-T or Expertise, Authoritativeness, and Trustworthiness is one factor that Google uses to evaluate the overall quality of a web page. So improving your E-A-T has become significantly important to be the 'good boy' in the eyes of Google.
There are several ways of improving your ETA. One way of doing that is by focusing on personal branding. Positive personal branding can help you improve your E-A-T and can massively boost your search rankings.
Since our founding in 2008, we've created and launched many types of business websites. Over the last decade and we've learned a thing or two! That's why we're masters of our craft, let us help you build the website of your dreams – one that generates traffic, leads and conversions.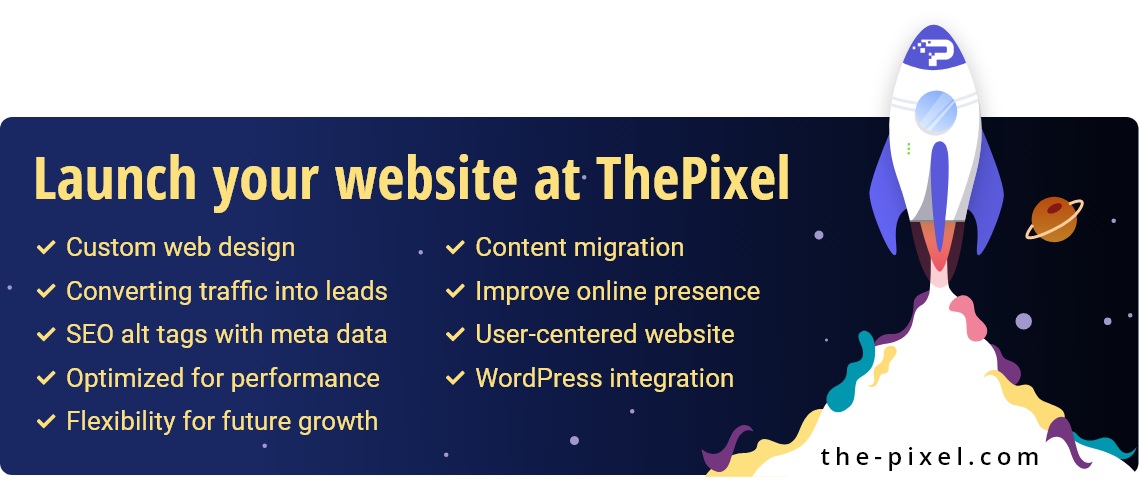 Are you ready to start? If yes, contact ThePixel and one of our representatives will guide you through the website phases and how the process works either by a Zoom Meeting or phone.