How-to Conduct Website Audit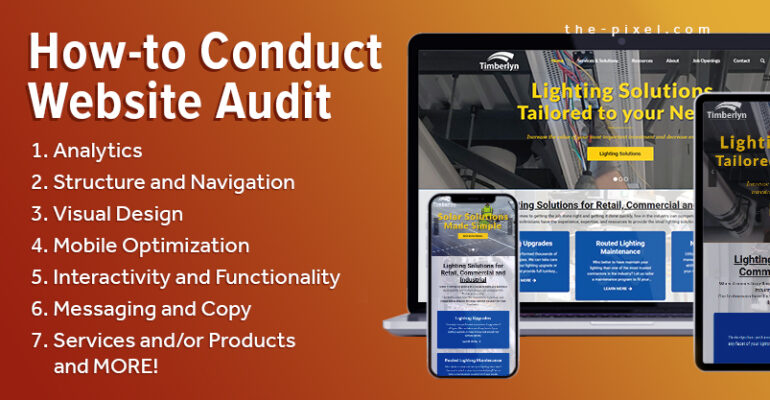 How-to Conduct Website Audit
Conducting a website audit and why you need one
Just as it's important to visit the doctor for routine checkups, the health of your website needs regular assessments as well. A website audit can help you answer important questions such as "How is my website performing?" and "How can I improve it?"
Conducting an audit of your website is a great way to maintain its health and make sure it's still doing what it's supposed to do: communicating who you are as a firm, raising brand awareness, sharing helpful and engaging content, and generating and converting leads.
A website audit helps determine what's working, what needs a refresh, or if you might need a more thorough redesign. Let's talk!
1. Analytics
In addition to traditional website analytics, heatmapping tools can be very insightful regarding user experience. A heatmap is a visual representation of user behavior: it shows where users click on a page, where their mouse moves, and how far down the page they scroll. Some tools also collect screen recordings of user behavior. Screen recordings can help provide insight into how users are interacting with the site, and where they may be exhibiting hesitancy or confusion. Ultimately, analyzing your website analytics will allow you to optimize your website and create the best user experience for visitors.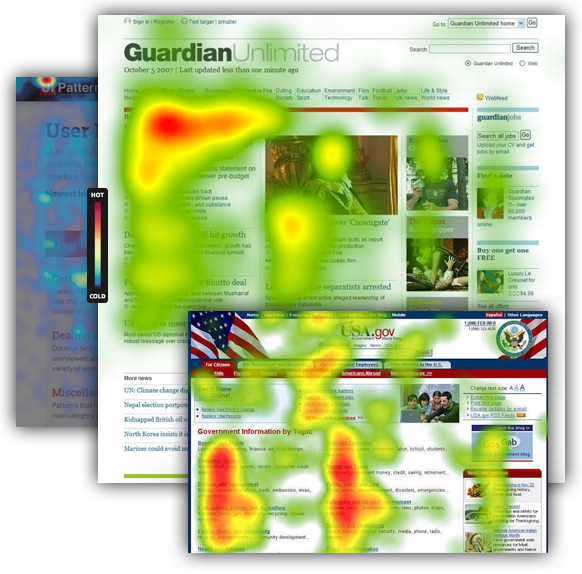 2. Structure and Navigation
Your website's structure and navigation is one of the most important aspects of the site, as it's essential to enabling users to find the right information about products and services and guide them to where you want them to go. There's nothing more frustrating for users than when they can't find what they're looking for or if a website's navigation is confusing. That's why the ease and clarity of your navigation is essential to user experience. When users find it easy and intuitive to navigate your site, it will improve your engagement metrics and visitors' and prospects' perception of your brand. A website audit may provide recommendations and improvements around navigation item language, design, and placement to improve user experience and help users reach your goals.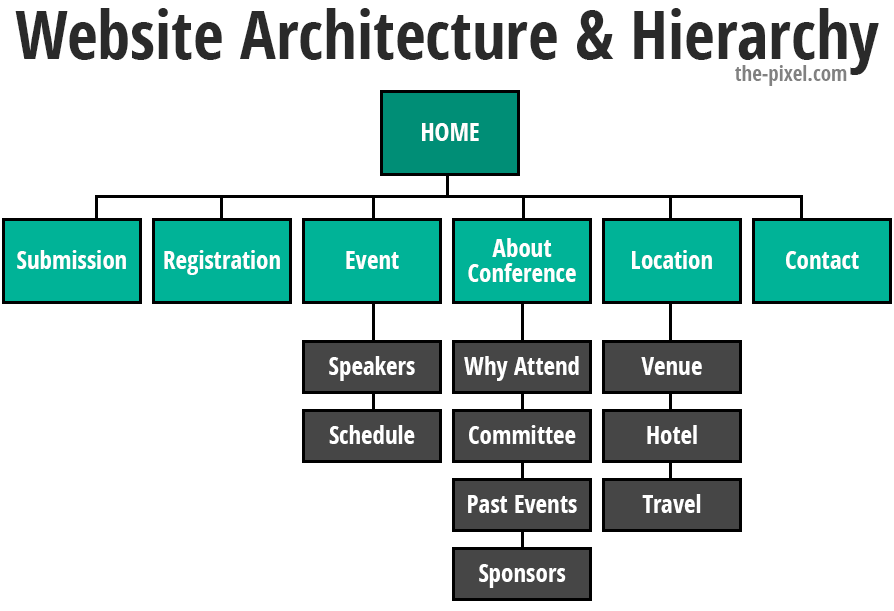 3. Visual Design
A website audit will also evaluate the design and layout of your website. Obviously, everyone wants their website to look nice, but apart from being aesthetically pleasing, great design is simply great for business. A modern, clean, and attractive website helps make a good first impression to prospects, attracts talent, and pulls in qualified leads. An audit will evaluate your website design and whether the layout is strategic. It will also look at whether your typography and color scheme are interesting and if you are utilizing your secondary color palette well. All of these aspects of the design help improve user experience, brand experience, and client experience.
4. Mobile Optimization
On a similar note, it's important to look at mobile design specifically. Over 50% of global web traffic is mobile. This means responsive design is essential for your website. An audit will make sure the website is responsive across screen sizes and devices (mobile, tablet and desktop). It will evaluate whether the responsive design is optimized for mobile. For example, is the layout simplified? Is the interface easy to navigate with a user's thumbs? For mobile, it's also important to evaluate and optimize for page speed, as users expect pages to load quickly on their phones. Optimizing for mobile will help users easily navigate your website and also improve SEO.
5. Interactivity and Functionality
Website interactivity refers to the ways a user can interact and engage with the website's interface. This can include elements like hoverstates, animation, buttons, and video. Functionality goes hand in hand with interactivity as it involves how the website works and how users navigate it. Apart from being more enjoyable to navigate, increasing the interactivity of your site will improve user engagement and help users obtain the information they are seeking. Interactive elements should be interesting and engaging, but they should also be functional. For instance, a hoverstate tells a user that a button is clickable, and an arrow that appears when you hover over a button indicates to the user that it will take them to another page. A website audit will incorporate the analytics—how long are users spending on your site, what are they clicking on, etc.—to make recommendations on what's working and what pages need more interaction or more useful interaction.
6. Messaging and Copy
Visitors come to a website because of the content, but they stay on the site and convert based on the messaging. A website audit will assess the copy and messaging on your site. Is it consistent? Does is convey a clear brand voice? Does it differentiate and position you in the market? It's important that your brand voice is consistent across the website (as well as across your other brand elements) and that it accurately reflects the firm that you are today. Messaging should also be benefit-oriented and speak directly to your audience in order to attract and convert qualified leads.
7. Services and/or Products
One of the most important pieces of content to your website is all the information about your products or services. That content may not be what originally brings a user to your website, but in order to convert leads into customers, compelling products and services descriptions are essential. A website audit will evaluate whether these descriptions are detailed, understandable, and benefit-oriented. Do they utilize compelling images and visuals? Are there strong testimonials from customers or case studies to show customer proof? It's important that leads are engaging with this part of your website and easily getting all the information they need about your firm and the value you provide to clients and customers.
8. Thought Leadership
Many users will land on a website organically because they are searching for an answer to a question, and that website has some form of content that answers that question, whether a blog post, an article, a whitepaper, or a podcast. Not every firm values thought leadership or devotes a significant amount of time and resources to it, but developing thought leadership content is an excellent way to build your organic reach and establish your firm as a thought leader in your space. It's important to meet your prospects at every stage of the customer journey. Even for website visitors who are farther along on that journey—maybe viewing your products or case studies—it boosts confidence in their perception of your brand to see that you're publishing thought leadership content and that you're an expert in your field. A website audit will help determine how well you are demonstrating your expertise on your website.
9. Careers
One purpose of a website is to convert leads into customers, but it's also a tool to convert job seekers into applicants. Prospective talent will most definitely explore your website when deciding whether or not to apply for your job openings. Your website should clearly communicate your value proposition to your audience—and that includes both the value you offer through your products and services, and the value you offer as an employer. It's important that the careers section of your website conveys that value through a strong employer brand and compelling employee proof in the form of employee testimonials and photos of your team. Attracting talent is essential to any growing company, and a website audit will look at all of these elements to assess how well you are engaging talent and establishing your firm as a great place to work.
10. Search Engine Optimization (SEO)
While content is at the core of every great website, that content is useless if no one is finding your site. Content and SEO are intrinsically connected, as publishing quality content will help increase your search engine authority score. But there are also a plethora of other SEO elements to evaluate in an audit of your site. There's technical SEO, which includes items like meta data, your website's sitemap, website security, and page speed. On-page SEO involves optimizing the content on your page for search engines and includes implementing a keyword strategy to your content and building an internal linking strategy.
Off-page SEO refers to the activities outside of your own website that point back to your site and impact your search engine rankings. Most of off-page SEO involves link building; when authoritative links point back to your site, it tells search engines your website is credible and can increase your authority score. There are plenty of platforms and tools out there to help measure how well your site is optimized for search, and SEO is an area that you can continuously improve upon.
11. Removing bias from your website evaluation
It's important to acknowledge that evaluating your own website is difficult. Planning, building, and maintaining a website is a lot of work, so it's hard to point out areas needing improvement or opportunities for growth on your own site that you've spent so much time and resources on already. In order to remove bias from the website audit process, consider partnering with an objective, third-party source to conduct the audit for you. Then, you can utilize the results in any way you wish.
Just like when you visit the doctor for checkups, you receive opinions and use that information to decide what steps to take towards maintaining your health. As you evaluate the health of your website, you may find that it's working pretty well and meeting your goals. Perhaps some parts of the site need a refresh or some fresh content. Maybe your site is modern and has impressive functionality, but your brand needs a refresh. Or your site may be several years old, and your firm is in need of a website redesign altogether. Whatever the verdict, a website audit is part of the process and will give you practical steps to building your website to be the best it can be.