Generate More Leads Using Your Homepage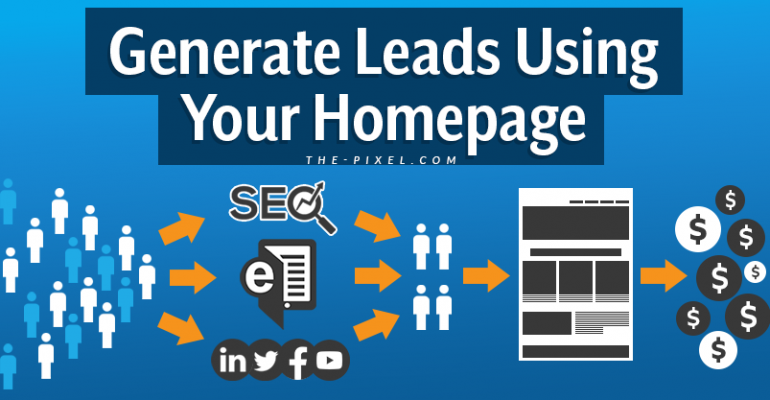 Generate More Leads Using Your Homepage
Most effective ways to win consumers over is with your website's homepage
Are you looking for a way to generate more leads for your business? There are countless ways to grow your audience while increasing sales and engagement on your website. One of the most effective ways to win consumers over is with your website's homepage.
Your homepage is the first thing consumers see when they type in your URL or find your site through Google. It is also an excellent tool for growing your email lead list and social media following.
When you consider that 3.81 billion people use social media, and the average return on investment for email marketing is 4,400%, it's easy to why businesses want to find one pivotal point to generate more leads.
Your homepage can do everything we've mentioned, and more. Today we are going to explore 4 tips you can use to generate more business leads directly from your homepage.
Let's get started!
Nail Your Heading and Subheading
When you visit a website, the first thing you see is the heading and subheading at the top of the page. The header is one short sentence that summarizes your brand. The subheading consists of 1-3 sentences and usually contains a value proposition.
Imagine going to a website and having no idea what a company does or how it will help. Would you subscribe to their lead list? Probably not.
Take the time to craft your heading and subheading, so new visitors know exactly what to expect from your company. If you need help creating this part of your website, here's a simple formula to help you nail your value proposition.
"We help [X] to [Y] by [Z]."
The letter X represents a description of your target audience. Y describes the benefits customers will experience when using your product or service. Finally, Z represents how your product will help customers achieve the benefit.
So, an online sporting goods store's subheading might look like this:
"We help sports fans find all the gear they need by offering a vast selection of exclusive products."
Feel free to tweak our formula when creating your subheading. The key is to create a clear message that immediately gives potential customers a reason to stay on your website.
Include a Video
Next, let's talk about the power of video content. A surprising 43% of consumers say that they want more videos from marketing teams. There are a few reasons why adding videos to your homepage can lead to more signups, sales, and engagement.
Video content is easier to consume, especially if you want to reach people using their smartphone. So, adding a clip to your homepage where you highlight some of your products' benefits can result in more views across the board.
You'll also have the chance to use your videos as a way to connect with people interactively. Offer the next steps you want new users to take after they are done with your homepage. For instance, you can encourage users to join your email list or follow your brand on social media at the end of the video.
Show Off Testimonials
Showing social proof, like testimonials, on your homepage is a great way to generate new leads. Essentially, social proof is used to describe marketing strategies that boost customer trust. Testimonials work well on your homepage because users can see what other people think of your products or services before they navigate from the first page.
If you need more evidence that shows testimonials work, consider this: 72% of people won't take action on a website until they read a review.
Imagine landing on a website that seems like it could suit your needs, but there's not a single review on the site. How likely would you be to sign up and continue engaging with that brand? Now, flip that story around and imagine you go to a website for the first time, and there are incredibly positive reviews on the homepage. You would instantly know that other people find this site useful, so you might too.
Testimonials are just one form of social proof you can use for lead generation. It's also possible to find success by using trust seals or adding live sales notifications to your homepage.
Ask for an Email Address
Let's say your homepage is flawless. Consumers love what they see and think that your product can improve their lives. Despite this assurance, most are not ready to buy. These folks will likely want to browse your blog, look at your product catalog, and possibly check for other reviews.
We know that most consumers are not ready to buy right away because 47% of people read 3-5 pieces of content before they complete an order with a new business. The best way to stay connected with prospects and deliver actionable content is through email marketing.
Include a lead magnet or incentive for users to sign up with their email address on your homepage. You'll find that if what you're offering matches the needs of consumers, you'll see a sharp increase in new leads.
Create a visually appealing call-to-action that drives consumers to sign up right away. If you've done an excellent job researching your audience, you can use this data to create an offer that's just right for new visitors.
Final Thoughts
Every industry uses a slightly different website layout. Homepages are the one piece of the puzzle that's consistent for companies regardless of their size or expertise.
If you want to grow your business, leads are essential to your success. The tips we've offered today all boil down to one idea: show consumers why your business is worth their time. Use the advice outlined above to create a high-quality homepage that touches on consumers' pain points and generates more leads for your business.