Improving Your Website's On-Page SEO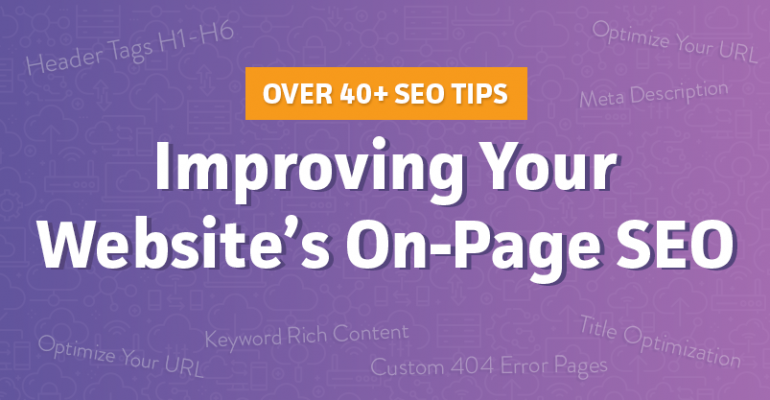 Improving Your Website's On-Page SEO
Create a competitive edge with stronger on-page SEO
If you're wondering what you can do to make your site jump a little closer to the first page of results read on for a myriad of simple tactics you can employ to enhance your on-page SEO.
On-page optimization is one of the most important aspects of ranking a page for any given keyword. You can break down communication barriers using on-page optimization tactics and send stronger signals to search engines about what your page is about.
If you've been paying attention, stuffing your content full of keywords isn't exactly the best way to get your site noticed.
In fact, it could be argued that keyword density is somewhat obsolete. It's true, the strategic placement of keywords contributes to optimization, but there is no magic ratio that has been proven to lift your ranking.
There are, however, over 200 other ranking factors to consider. Many of these factors can be accounted for by enhancing your on-page SEO.
Search engines are processing an enormous amount of data in their ranking algorithm. Artificial Intelligence is becoming more aware of what users want and better at determining what content will satisfy user intent. Google updates like BERT are indications of an increasingly more complex and savvy search engine.
All this being said, you don't have to resort to tricks and secret hacks to get your site ranked on Google, but you do have a lot of information to feed the search engine that will help your chances of getting ranked.
On-page SEO isn't just limited to keywords, but to the relevance and quality of content as well as its technical performance.
Ways to Improve Your On-Page SEO
1. Title Optimization
Include your keywords near the beginning of your title.
Keep the length of the title under 60 characters.
Wrap your title in H1 tag.
Use accurate, descriptive and creative titles.
2. Optimize Your URL
Use your keyword in the URL.
Give users a sense of what your page is about by reading your URL.
Limit the URL to five words to maximize the potency of your keyword description.
Limit the URL to 90 characters.
3. Use Descriptive Subtitles
Use subtitles to segment your content.
Use title tags (h2-h6) to signal the level of importance of each heading.
Create scannable content.
Include keywords and synonyms.
4. Write Keyword Rich Content
Use your keyword in the first paragraph.
Include keyword at least several times.
Avoid keyword stuffing.
Satisfy the user's intent (search intent) to make your page the last destination of their query.
5. Image Optimization
Use keyword-rich descriptions in the image alt tag.
Include your keyword in the file name.
Fill out captions.
Use a descriptive title.
6. Incorporate Schema
Implement schema to make your page eligible for rich snippets.
Use a schema generator to better describe what your page is about with the proper code.
7. Meta Description
Write keyword-rich meta descriptions.
Entice the user to click on your page with accurate and creative descriptions.
Limit your description to 160 characters.
8. Inbound & Outbound Links
Use descriptive anchor text that links from internal pages and external sites.
Avoid the overuse of keyword-optimized anchor text.
Link out to pages that enhance the user's understanding of a particular topic.
9. Page Speed
Keep page load time to under 3 seconds.
Keep your images compressed when saving.
Reduce the number of HTML requests in your header.
Inline JavaScript (JS) and CSS.
Use plugins and CDN's to maintain an accountable load time.
10. Proper Use of Redirections
Whenever deleting or merging content use a 301 redirect.
Avoid using 302 redirects and redirect chains.
Your redirects should take a user from one URL directly to a new page.
11. Repair Broken Links
Identify and repair outbound broken links with routine audits.
Use 301 redirects to repair inbound links.
Customize your 404 error page.
12. Accessible to Search Engines
Your page can be accessed in less than 4 clicks from anywhere on the site.
Your page is able to be indexed by search engines.
Robots.txt file allows content to be crawled.
13. Responsive & Made for Mobile
Adequate size and space between buttons.
Easy to read text size and font.
Limit paragraphs to 3 sentences.
Same functionality on different screen sizes.
14. High-Quality & Shareable
Provide unique value to compel users to share your content.
Use images, video, audio and interactive media.
Content is easy to read and understand.
Use social sharing icons for easy sharing.
Since our founding in 2008, we've created and launched many types of business websites. Over the last decade and we've learned a thing or two! That's why we're masters of our craft, let us help you build the website of your dreams – one that generates traffic, leads and conversions.
Are you ready to start? If yes, contact ThePixel and one of our representatives will guide you through the website phases and how the process works either by a Zoom Meeting or phone.