eCommerce Mistakes to Avoid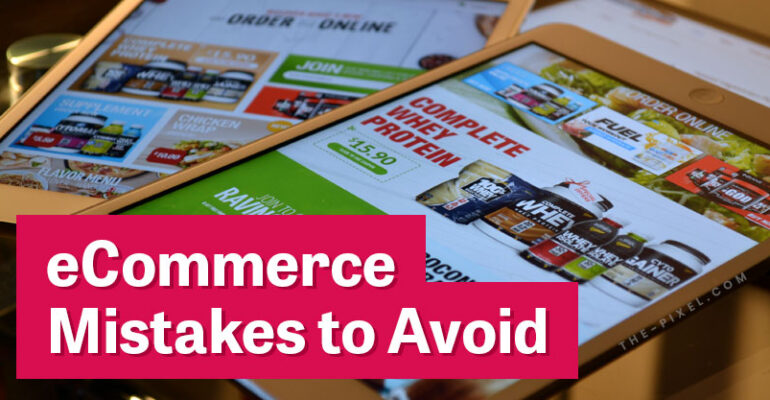 eCommerce Mistakes to Avoid
Online presence is essential for every business
Starting an eCommerce business is a wonderful idea to market products to customers without having a budget of multinational companies.
Covid-19 pandemic has transformed the customer's shopping behavior. Shopping online is a new normal. This makes an online presence essential for every business. Tip for Your B2B Website During Covid.
Even though the eCommerce business provides endless opportunities to gain sales, things can go wrong if you do not keep a few basic points in mind.
Not Defining Your Target Audience
You may be busy setting up your store and defining your business plan. And you fail to niche down. If you do not define your audience, you won't be targeting a specific audience. It's like beating a dead horse.
For example, if your business is selling baby products of 0-5 years, and targeting old mums is of no use. No matter how excellent your product is or how nice you explain its benefits. They are never going to buy these products and in fact, they will get irritated with you.
Determining your target audience will help you to create an experience that they tend to buy again and again. Gather information and create a buyer persona including the below information that helps to reach more people who are interested in your products.
Understand their interests
Analyze their behavior
Demographic information like age, gender, income
Their purchasing decisions
Preferred platforms
The success of any business depends on the connection with your audience. And this can be possible with the help of carrying out market research and specifying your audience.
Failing to Provide a Great User Experience
User experience is included in each and everything of your site and what you do outside it. You do not need only a good design but also great navigation and uncomplicated checkout to retain the user experience of the store.
Another thing that affects the experience of a user interacting with your store is page loading speed. If a website takes too long to load, what will be your next step? You just leave the site and switch to another one. So it is extremely important to optimize the speed of your eCommerce site to enhance the user experience of the store. When the website server is loaded with a large amount of data, it affects the loading speed. To overcome this issue, you can use Amazon S3 cloud storage for Magento 2 to free up your website disk space.
If the customers cannot find what they want, it is a great loss for you. So it is beneficial to create categories that will help users where to go and increase the sales and revenue of the store. Furthermore, lack of shipping options, lack of payment options and not allowing guest checkouts can impact the user experience adversely.
You Have Overlooked SEO
Search Engine Optimization refers to making your store visible on the internet. If you type "best hair fall shampoo" in Google and you get a list of websites as a result of your query. These websites are not automatically ranked but are finely optimized for search engines.
Every single piece of text you add on your eCommerce website including the home page, product descriptions, and the about us page, you have a chance to optimize your content and use the right keywords based on SEO. Content is the right tool to drive potential customers to your store.
However, SEO is not just limited to content. It involves off-page SEO, on-page SEO, promotions, link building, and more.
Insufficient Product Description
Product images alone cannot do anything unless they are paired with interesting product descriptions. Product descriptions must be compelling including features and benefits that can help to boost sales of your products.
A flawless product description includes the following:
Product descriptions must be clear, concise, and divided into segments.
The product description must be focusing on the right audience.
Include benefits of the product that a buyer will have after having it.
Optimize your product descriptions for the search engines to get higher rankings.
Include the answers of what, why, and how with your product descriptions.
The simple way to create a great product description is to ask yourself why your customers need your products and what benefits they will get by buying them.
Not Using a Flexible Website Design
Considering physical stores, what attracts a person? The look and appearance of the store catch the attention of the person and they feel like getting in to check out their products.
The same is with your eCommerce store. The quality of your products and the low-cost deals you offer only enter the battlefield if your website design is strong to attract customers and influence their decision-making process.
Even if you are starting an afresh eCommerce business, think of the future. In the future, you may expand your business and need to add more products or need additional features on your website. Your eCommerce website design must accommodate the changes as your business grows or else you will have to incur expensive and time-consuming hindrances in the future.
Lack of Marketing & Promotion
No matter if you sell one of the best products, it will not benefit you until people don't know about it. To promote your products and services you need to utilize all the marketing platforms available to you.
Some of the ways to advertise your products are social media posts, social media ads, YouTube, SEO optimized content. No one idea can turn the tables for your store. You need to try out various ways and check out what works for you. To reach your target audience, you need to be loud enough.
Google Ads allows eCommerce businesses to advertise products and services across Google platforms and other websites.
Unsatisfactory Customer Service
Customer service plays a significant role in contributing to customer satisfaction of the store. Customer service includes how you respond to questions, queries, and messages of users. Poor customer service leads to losing customers and blocking getting the new ones.
Be available when customers need you. At every step of a customer's shopping journey, you should be available from getting information, checkout, and delivery. If you take too long to respond or reply with insufficient information, you will have a long queue of unhappy customers that will only break your business.
Offering good customer service will not only help to keep existing customers but they will also speak about your services outside and send you more business.
Wrapping Up
Remove as many obstacles from the customer's way and you are sure to reduce cart abandonment and deliver a great user experience. Putting your customers first will help you provide a shopping experience that facilitates repetitive sales.
Analyzing customer needs and requirements can help you sell your products in a more powerful manner. The above seven mistakes can come your way unknowingly that will cause you to lose potential business opportunities. Stay alert and careful to save your eCommerce business from these mistakes.