Why Every Business Website Needs Management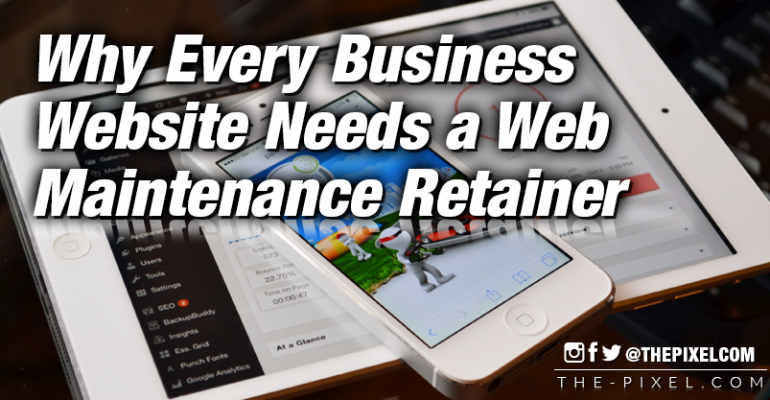 Why Every Business Website Needs Management
Websites need to be constantly improving to keep up with user expectations
If you ask most marketers how they manage their website, the majority will typically have it redesigned every couple of years and only contact their developer when there is a problem. This cycle continues and nothing seems particularly wrong – after all, this is how you've always done things.
The problem with this approach is that nobody is keeping on top of all the things that go wrong under the hood over time, or indeed the impact of any changes that are made along the way. These things can fester and significantly affect your rankings – a web retainer will prevent this from happening.
Your website is getting old, fast
The days of website redesigns every couple of years are over. Web design and marketing trends move so quickly now that your site needs to be constantly improving to keep up with user expectations. These don't change every few years; they're always evolving and the longer you stay the same, the further you fall behind.
Leave your site to gather dust for three years and you can guarantee it's been under-performing for at least two of those. And by the time those three years are up, your site is so out of touch with user expectations that everything needs changing.
It doesn't have to be like this, though. Ask any brand that takes conversion rate optimization (CRO) seriously and they'll tell you the same thing. You can keep your site up with user demands by running tests and making small, incremental changes throughout the year.
Small, incremental changes are more cost-effective
This may sound like an expensive way to go about website management but it's actually far more cost-effective. This way you only fix what's necessary, when it's necessary – rather than wait until your entire site needs overhauling.
More to the point, you're acting quickly to make sure parts of your site don't cost you valuable leads. If you're waiting three or more years to address these issues, then how many customers are you losing in the meantime?
Worse still, how do you know your next redesign will even address these issues? Unless you're running regular tests and making incremental changes all the time, it's unlikely you'll have the necessary data to spot these issues to begin with.
When was the last time you looked under the hood?
Just like you can't see user behaviour without collecting data, you won't spot more fundamental issues with your website unless you take a regular peek under the hood.
When was the last time you checked if your website was running the latest version of WordPress or Drupal? If your website is relying on plug-ins, do you know if these are up to date? If not, your website security could be at risk.
You have to protect your site from spam, malware and various other threats. Are you sure no-one has set up a malicious page under a subdomain of your website? Seriously, go check – it's more common than you might think.
To give you a better idea of what it takes to keep your website in order, here's a list of things you need to be doing on a monthly basis:
Monthly maintenance checklist:
Website backup: Check that files and databases are being automatically updated.
Software updates: Ensure every piece of software your website relies on is up-to-date (for security and performance more than features).
Broken links: Keep on top of your internal links to make sure users always end up where you need them to.
Inbound links: Make sure no links are coming in from sites that can drag down your search ranking.
Traffic: You can't know how effective your off-site marketing efforts are unless you know where your traffic is coming from.
Speed check: Keep track of site speed and pinpoint anything that could be slowing things down.
Spam: Monitor comments or any other user content that leaves you vulnerable to spam.
Security checks: A routine check that nobody has tried to attack your site or access your users' data.
These are just the basics, too, before you even think about changing any design elements. So you can imagine what kind of state your website will be in after a few years.
Work with your agency on a monthly basis
If you don't have someone on board who can take care of website maintenance for you, then speak to your design/marketing agency. They should offer something called a website maintenance retainer, which is basically a monthly contract to take care of your website (or we can help of course!).
Don't limit yourself to covering the basics, either. Use these retainers to your full advantage and have your agency address design, marketing and any other issues as they arise.
This way you don't sit there while users hit the back button when they could be converting instead. You also don't wait until your website is falling apart at the seams before you decide to take action. Your site will be constantly improving to keep up with user demands and hitting maximum performance on a monthly basis.