What Makes a Good Website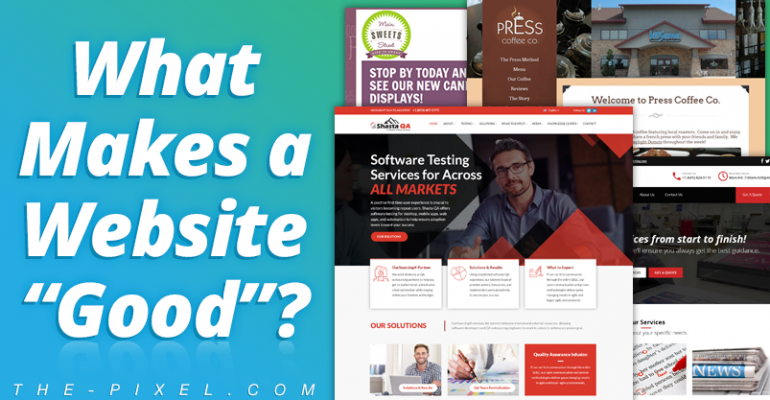 What Makes a Good Website
Benefits of a Small Business Website
One of the biggest assets a small business currently possesses is its website.
Websites have proven to be vital to keeping small businesses website up and running amid the COVID-19 pandemic. Customers can find your business through search engines, learn more about the steps that businesses are taking to ensure their safety, and make purchases.
For businesses that are brick and mortar storefronts especially, having a website can be an excellent contingency plan in the event of an unforeseen circumstance. Your storefront may be temporarily closed, but the website will always be open — and its customer service team is ready to assist your customer base.
What other benefits come with creating a website for your small business? Here are five additional perks to having an updated small business website.
1. Websites establish business credibility.
Think of your small business website as your official presence online. This space allows you to share more about your business besides its offerings and services. You can provide a look into the story of your business, its team members, value proposition, and mission statement that guides the company.
The more you are able to bake your company narrative into the website, the more customers — new and existing alike — will begin to build trust in your company. You can build credibility, and make a solid first impression, through an optimized, updated, and aesthetically pleasing small business website.
2. Improving search rankings.
One of the easiest strategies you can implement so customers can find you online is to optimize your website for SEO purposes. Relevant keywords, and copy, used throughout your website will allow customers searching for these keywords to find you. This helps improve your SEO ranking through search engines like Google, and allow your business to increase its rank using these keywords.
3. Gather important data about customers.
Who are your customers? Through the built-in analytics portion of your website, you can learn more about the kinds of visitors that come to your website.
For instance, did they find you through a specific search engine? What kinds of content or pages do they spend the most time on? How many unique visitors are going to your website? Do you know what the bounce rate of certain pages looks like? Using this data can help you identify these customers and strategize about the ways your business can enhance their experience.
Additionally, a small business website can help generate leads. If you are asking customers for their email address, for example, you may provide them with a free e-newsletter or discount code to thank them for signing up with you. Customers that had a satisfactory shopping experience with you may refer their friends to visit your website and sign up with their emails for these special offers. This helps you develop a mailing list for email marketing campaigns as well as continue generating leads.
4. Establish your professional reputation.
Use your small business website to include information that allows your business to be viewed in a favorable, professional light.
Obtain your preferred domain name.
Set up a professional business email address.
Include your company's phone number and mailing address. This is typically kept under the contact tab.
Share the address and store hours of any brick and mortar storefront locations your business may have.
Sync up your social media accounts. [Social Media Channels Explained]
Consider adding chatbots or live chat. This allows you to interact and engage with customers in real time.
Share positive reviews from websites like Yelp and Trustpilot.
Highlight favorite media mentions.
Advertise job openings and employment opportunities in the business.
5. Become a thought leader.
Customers want to know they are working with a business that is trustworthy and understands the ins and outs of its industry. Several aspects of your website can be utilized for thought leadership purposes.
Use the company blog to share news about the business and to write posts that answer commonly asked questions or provide tips that address a certain topic. Create and share content on social media that allows you to engage with customers and fans. You may also consider starting a vlog or podcast to further reach new customers and to share more of your existing knowledge and insight in the industry. This kind of content not only promotes the business, but helps it to build a strong reputation as a thought leader.
Since our founding in 2008, we've created and launched many types of business websites. Over the last decade and we've learned a thing or two! That's why we're masters of our craft, let us help you build the website of your dreams – one that generates traffic, leads and conversions.
Are you ready to start? If yes, contact ThePixel and one of our representatives will guide you through the website phases and how the process works either by a Zoom Meeting or phone.