Mobile-First Website Design Strategy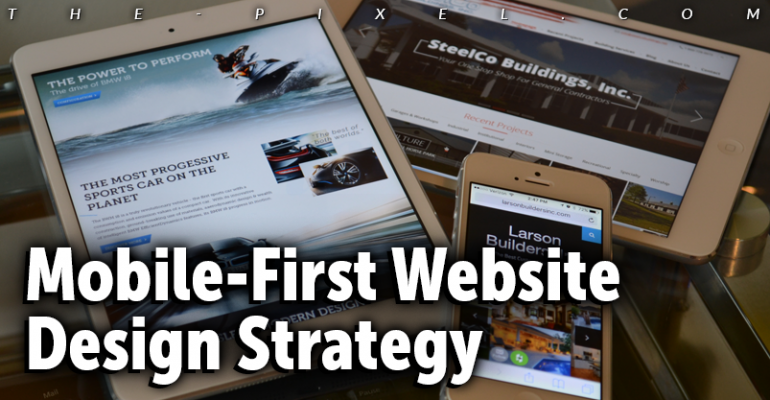 Mobile-First Website Design Strategy
Mobile-First Index is Approaching – How Can You Prepare?
Total mobile bookings for hotels in 2021 were above 40% 63% of US travelers say it's extremely important to use a smartphone when planning a trip, while nearly two-thirds rely on a mobile app during their trip. More than 80% of travel bookings now take place without human interaction.
In 2019, nearly 27% of bookings and 24% of room nights came from mobile devices (smartphone and tablet), compared to 21% of bookings and 17% of room nights in 2019.
As we continue to see the travel planning process become increasingly complex, hoteliers need to find ways to engage their best potential guests across multiple touch points and across all devices. Today's typical travel consumer is exposed to more than 38,983 micro-moments in a 60-day timeframe and visits an average of 18 websites via multiple devices across eight sessions before making a hotel booking (Google Research). This journey results in serious competition for the travel consumer's attention and has become increasingly dominated by mobile micro-moments and touch points.
We already live in a mobile-first world. Mobile devices dominate the travel planning journey: 40% – 50% of desktop bookings worldwide are preceded by a click on a mobile device, and 94% of leisure travelers use multiple devices (mobile, tablet, desktop) when planning and booking travel.
eMarketer projects that, in 2022, online bookings are expected to exceed $190 billion, of which 40% is slated to be purchased on mobile. In hospitality, 20-30% of hotel bookings are made on mobile devices, with the percentage dependent on property type (branded or independent), location (rural or metro area), complexity of hotel product (golf resort vs. major city hotel), availability or lack of a loyalty program, and composition of its customer segments (business vs. leisure; transient vs. group).
The hospitality industry has less share of mobile bookings compared to the overall projections for the travel industry. This is due to the complexity of managed corporate travel and corporate and SMERF group segment procurement, such as mandated GDS bookings for managed corporate travel, and offline RFP process for group travel.
Hoteliers face a major challenge in creating and managing a robust digital presence in an increasingly mobile-first environment. They must invest in mobile technology and marketing that enables the best possible user experience and maximum engagement, regardless of device. This explosion of mobile customer engagements also creates a tremendous opportunity for smart hoteliers who invest in and take advantage of this rising tide of mobile-obsessed travel consumers.
The mobile-first world is already a reality:
Nearly 27% of bookings, 24% of room nights, and 20% of revenue came from mobile devices. If we include voice reservations originating from the hotel mobile website, over 35% of bookings and 25% of revenue originated from the mobile channel.
Nearly 59% of web visitors and 52% of page views were generated from mobile devices.
The iPad outperformed all other tablet devices and was responsible for nearly 88% of tablet revenue and 86% of tablet
bookings.
Compare this to 2015, when mobile devices generated:
Less than 21% of bookings, 17% of room nights and 15% of revenue
Less than 38% of web visitors and 40% of page views
Or to 2012, when mobile devices generated:
Less than 9.5% of bookings, 8.6% of room nights and 9% of revenue
Less than 17% of web visitors and 14% of page views
The shift toward the mobile-first world continues year-over-year:
We are witnessing continuous year-over-year growth in the mobile device categories, while the desktop continues to lose ground. The most notable developments in 2017 compared to 2016 were:
Mobile bookings and mobile revenue increased by over 16%, an indication that travel consumers are becoming more comfortable transacting via their mobile devices.
All desktop metrics saw a YoY decline. Desktop bookings decreased by 4.9%, while visitors decreased by 13%.
Smartphone devices showed the biggest increases: bookings increased by over 34% while website visitors increased by 21% YoY.
What should hoteliers do about this mobile-first digital world?
Here are the top two action steps hoteliers need to undertake to address the shift to mobile-first user behavior:
Hoteliers need to keep the property website, which is the foundation of their digital marketing and distribution strategy, up to the mobile-first standards that travel consumers now demand.
It is staggering how hoteliers often fail to understand the crucial role the hotel website and its user experience (UX) plays in the overall health of the property and its bottom line. With nearly 59% of website visitors now viewing the property on mobile devices, a fully responsive, mobile-first website design is a must.
There is a very simple litmus test to determine how good is your property website in this new mobile-first world we live in: invite friends and family to visit the property website on their smartphones and get their feedback as to how user-friendly the site is, how good and useful the content is, and, overall, how mobile-ready your site is. Another approach is to ask yourself: how old is the hotel website? If it is older than two years, it's due for a re-design. Websites older than two years often lack the latest best practices in technology, design, and UX, such as a mobile-first design, reservation abandonment applications, merchandising applications, Google AMP (Accelerated Mobile Pages), schema, technical SEO, and more. An outdated website leads to lower conversions.
Website download speeds across various devices inevitably affect conversion rates on the hotel website, while fast download speeds drastically improve the user experience and increase the user's desire to transact on the site. According to Google, 53% of visits are abandoned if a mobile site takes longer than three seconds to load. Mobile-first responsive website with cloud hosting and Content Delivery Network (CDN) provides far better server response times and faster download speeds.
The property mobile-first website must be backed by a Website Technology Platform that includes mobile-first functionality specific to the needs of hoteliers, such as:
An advanced merchandising technology platform for promoting special offers, including last-minute offers for mobile users as well as time-based offers, promotions driving awareness of nearby or on-property events, and promoting specific aspects of the property, such as food and beverage or spa credit.
Personalization capabilities to target users with one-to-one marketing messages and promotions, based on the device they are currently using (mobile vs. desktop), their demographic information, geolocation, feeder market origin, loyalty member affiliation, and more.
Website promotional banners with live rates providing real-time availability and rate information for both mobile users (with shorter booking windows) and desktop users (with longer booking windows).
Advanced content management functionality to create and manage complex, mobile-first website content layouts.
A highly-secure cloud hosting platform that features a full-stack of automated download speed-enhancement tools and bandwidth, specifically designed for mobile users.
Mobile-first website strategy recommendations:
Leverage a best-in-class user experience (UX) strategy to ensure that customers can easily complete a booking across devices.
Stay ahead of website design and content trends. Remember that you are selling a dream, an intangible object, and the more you can bring the experience to life, the better.
Utilize mobile-first responsive design, ensuring an optimum experience across devices which travel consumers are able to easily access the information they need no matter what device they are on.
Audit your website strategy frequently, at least every six months. Review technical SEO, merchandising, personalization strategies, your content and copy, and your website technology platform.
Website accessibility and WCAG 2.0 compliance must be taken into account. Work with a website technology partner that understands what goes into making a hotel website ADA compliant.
The property website must incorporate the right balance of beauty and science: excellent design combined with state-of-the-art website content management system (CMS) technology, supported by a merchandising strategy, and engaging visual and textual content, all while providing an optimum user experience from top to bottom on every device (mobile or desktop). This type of website will result in a boost in conversions and revenues from the direct online channel.
As mentioned, the average travel consumer goes through multiple touch points and uses multiple devices when planning and booking a trip. Keeping the consumer engaged and reaching them at various touchpoints throughout their journey requires integrating all screens (desktop and mobile) and consumer touch points in the hotel's marketing strategy.
These multi-channel, multi-device campaigns utilize effectively the right combination of online channels across all devices (SEM, SEO, online media, social media, smart data marketing, email marketing, and more) to promote one cohesive message across channels and devices. This strategy is the most effective way to increase reach and boost revenues for a need period.
Multi-channel campaign strategy recommendations:
Establish the overarching business-need you are trying to fulfill with the campaign: drive weekend stays, increase weddings/events, increase ADR, last-minute occupancy needs due to a big group cancellation, etc.
Use guest data, campaign insights, website analytics, and customer research to build a customer persona of your campaign's target audience.
Based on this data, create one cohesive campaign message that will most effectively speak to these audiences across all touchpoints and devices.
Map the path to purchase for your travel consumer and launch initiatives that will reach guests across devices and throughout all stages of the lifecycle, from the dreaming and planning phases to the intent phases and beyond.
Integrate powerful and engaging technology that assists in lead generation, relationship building, and driving direct bookings.
Reserve 15-25% of your property's digital marketing budget for multichannel campaigns.
To achieve mobile-readiness of your property's digital presence, hoteliers must invest adequately in the correct mobile-first website and digital technology and marketing techniques to engage past, present, and future guests to drive direct bookings throughout the entire path to purchase.
Since our founding in 2008, we've created and launched many types of business websites. Over the last decade and we've learned a thing or two! That's why we're masters of our craft, let us help you build the website of your dreams – one that generates traffic, leads and conversions.
Are you ready to start? If yes, contact ThePixel and one of our representatives will guide you through the website phases and how the process works either by a Zoom Meeting or phone.