Make Your Website a Tool to Grow Your Business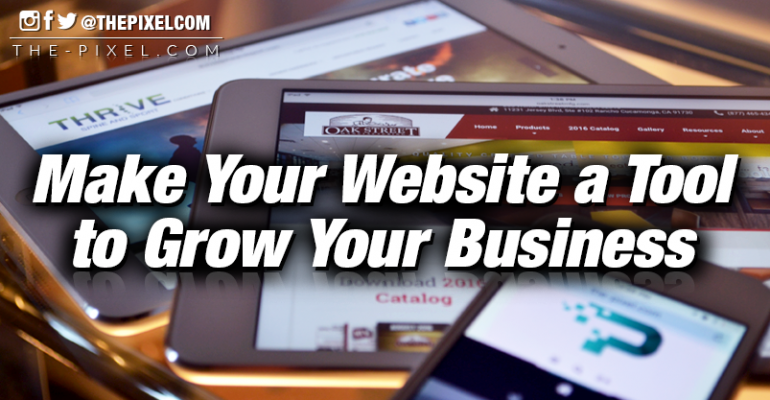 Make Your Website a Tool to Grow Your Business
Setting Goals
Your website is not just a pretty brochure online. It should have a definite purpose and it should drive visitors to take certain actions that will advance your bottom line. And you should have a way to track and measure progress and success, so if things are not working you can make adjustments.
It's so easy to say "over to the web design firm." After all, what do you know about creating a website?
Well, the more important question is, what do they know about your business? Building a website needs to be a collaborative effort and you should be the one who decides what the site should accomplish.
Every business is different and you will have to figure out what your goals are. That way you can work with your web designer and create an effective tool that will get real business results. Start with a wire frame of the site and put all the pieces in place to lead your visitors to the take the actions you want them to take.
A non-profit might want more volunteers signing up and more donations. A local business, like a bakery or a dentist, will need more people calling or looking for directions to the store. An e-commerce site will want purchases and payment.
Once the site is live you can use Google Analytics to discover what's working and what needs further tweaking.
The ABC's of Google Analytics
The first report to watch is Acquisition. Where are your visitors coming from? You need to know how they find your website, so you can incorporate this into your strategy.
Do you need to do more SEO (Search Engine Optimization) so you get more traffic from search?
Are there sites or blogs sending you traffic that you did not know about? Build or strengthen relationships with them. Create content partnerships.
Figure out which social channels are sending the most traffic and adjust your social media programs based on what you find.
Behavior reports will tell you what your visitors do once they are on the site. Did they visit more than one page, did they view a video or download a whitepaper? What path did they follow through the site?
And finally, Conversion. You have to set up your goals in Google Analytics based on the goals you set for the website.
You can set destination goals – did they reach a certain page? Or you can make a duration goal – how long did they stay on the site? You can also make an event goal – did they take a specific action while on that page?
And all goals can be given a revenue value. You might not be an e-commerce site making sales on your website, but you can assign a value to certain actions.
For example, if you know that it takes on average 100 leads to make a sale, and the average sale is worth $1000, you can assign a value of $10 to each lead you get from a whitepaper download.
Take a critical look at your current website. If it was built without any idea of what it should be doing to grow your business, perhaps it's time to consider updating it and making it an integral part of your business strategy.
If you don't know how it's performing, get Google Analytics installed. If you already have it, learn to read the reports so you can get the data you need. Then start making changes based on valid data and get start to get real value from your website.
Since our founding in 2008, we've created and launched many types of business websites. Over the last decade and we've learned a thing or two! That's why we're masters of our craft, let us help you build the website of your dreams – one that generates traffic, leads and conversions. All websites created at ThePixel include:
Are you ready to start? If yes, contact ThePixel and one of our representatives will guide you through the website phases and how the process works either by a Zoom Meeting or phone.