Learn About Your Website Visitors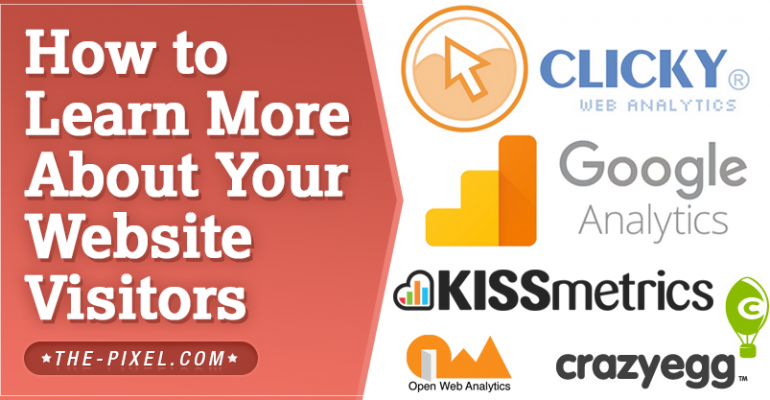 Learn About Your Website Visitors
Learn as much about your website visitors as possible
Once you have your site up and running, your priority should be to learn as much about them as possible. There are a number of programs that can help you do this.
1. Google Analytics
Google Analytics (GA) is free, and can be accessed through a free Gmail account. Register for a free GA account, and you will be given a number and some code to insert on your webpages. If you are creating your site in HTML, you will have to add it to every page you wish to track. You could create a template with the code built in for every new page you create.
If you have a WordPress based site, adding the code to the Header area will make all your pages visible to GA.
Google Analytics is a huge program that can take some time to master. Key metrics include:
The number of site visitors
The bounce rate (what percentage click in and out again rapidly without ever really looking at your site)
The average length of session
Sources of traffic, such as organic search, direct or social media
The most popular page urls
The main countries your traffic comes from
Device users (mobile, desktop, tablet)
2. Clicky
Clicky has similarly robust reporting, but it is more user-friendly for beginners. Everything is in real time, unlike GA. Its reporting also allows you to study your users in depth, such as by attaching a username and/or email address to their activity at your site. It is able to block robots, so your results won't get skewed by meaningless clicks. It also offers heat maps so you can see what your users are doing on the page in real time.
3. Crazyegg
Crazyegg is fun and easy to use. Add code to the bottom of the pages you want to track, and you will start getting a range of reports on your visitors' activities. The most detailed is the confetti report, which shows exactly where users clicked. When you click on the dot, you get a full picture of the visitor, how long they stayed, what keywords brought them to your site, and more.
You can try it for 30 days free and use all you learn to improve your pages to make them stickier for site visitors. It is easy to use and affordable.
4. Kissmetrics
Kissmetrics allows tracking, campaigns and populations to track customer behaviors. It also works with email and apps. You can segment, create, manage, and automate the delivery of emails based customer on behavior.
5. Open Web Analytics
Another solution is Open Web Analytics, free software you can download on a range of sites and configure in order to get reports on visitors and track activities such as ecommerce. Open Web Analytics is a self hosted solution that you must install on your web server. It offers a lot of the same features offered by Google Analytics.
6. Matamo
Matamo previously named Piwik, is free if you host it yourself on your site, or $7.50 to $40 to have it hosted in the cloud, if you wish. It is in real time, offers customer information, and allows you to create a wide range of campaigns. You can customize the dashboard, write notes on the data, and schedule reports to be emailed to you regularly.
Since our founding in 2008, we've created and launched many types of business websites. Over the last decade and we've learned a thing or two! That's why we're masters of our craft, let us help you build the website of your dreams – one that generates traffic, leads and conversions.
Are you ready to start? If yes, contact ThePixel and one of our representatives will guide you through the website phases and how the process works either by a Zoom Meeting or phone.