Improve Your Website With These User Experience & User Interface Design Tips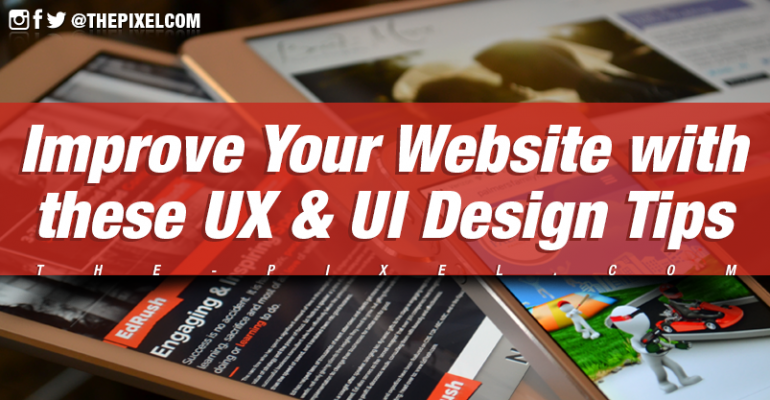 Improve Your Website With These User Experience & User Interface Design Tips
The ever-changing world of technology user experience and user interface design matters to stay relevant.
Web design has been constantly evolving and adapting to the modern world and the user-base that interacts with it. If you were to look at websites that were first released at the dawn of the Internet and the compared them with today, you'd wonder how anyone could ever stomach using the websites from way back when.
The ever-changing world of technology that we live in means that in order to excel, we need to stay ahead of the curve and make sure that whatever we develop, whether that's web designers mastering websites or app developers perfecting the art of how to build an app.
If you need a website for something, there are a couple of things you can do. The first of which is to outsource the work to a creative agency who specialize in all things web and app development related. The other option is to use a web builder like Weebly or Wix which allow you to use predefined templates to put your content out there in the world.
Regardless of which route you take, it's always a good idea to have a bit of knowledge about the UX (user experience) and UI (user interface) design so that when you have the finished project, you can analyze it and make sure it's always in its peak.
We're going to run through some tips and best practices that will help make sure your website has the very best UX and UI design in place, which in turn will drastically improve the interaction you have with users.
1. Know Your User Base
Now this point might not be directly linked with the actual design elements of your website, or how it operates and runs when a user is on it, however it's vitally important for success. If your website was about travel tips, then you would more than likely be targeting users who are anywhere between 18 and 30 years old. This can help you determine what kind of layout you should use.
2. Don't Over Complicate Things
For the best responses from users, you want to keep the experience seamless and simple. There's no need to fill you website with tons of text and fancy buttons and features just for the sake of it. Sure, you want a cool site which stands out but a lot of users like simple and concise content. You want your user to want to keep reading, keep scrolling, keep clicking etc. If they have huge walls of text, they'll just skip to the next site that has the information they want.
3. Color Scheme
You want to get the color balance perfect. You don't want to have something which is aggressive with tons of different shades of blues, reds, yellows, greens, blacks, and the like all mixed into one site. It will look amateur and cluttered.
You could go with a simple greyscale design with important information or buttons boasting vibrant colors. This will really make them 'pop' against the rest of the site, while still looking elegant and simple.
4. Mobile Site
The amount of users that will visit your site from a mobile device is likely to be higher than those on a desktop or laptop. And that number is only going to keep increasing as more and more people use smartphones for all of their browsing. Due to this it's incredibly important to make sure you have some good app developers or web designers that can help you create a very responsive, mobile-friendly website.
It needs to feel intuitive, easy to use and it has to look good. Some sites look amazing on a laptop but then when they appear on a smartphone, icons are too small to tap, text looks all clumped together and the visuals are terrible. Make sure you focus a lot of effort into the actual design of the mobile version of your site to increase the chances of retaining users.
5. Be Willing To Adapt
This is probably one of the most important aspects to take into consideration. We all know how easy it can be to put your heart into something and then lose all motivation when users don't flock to your design. And while you might think you have designed something incredible, if users don't then you're going to lose.
Don't be afraid to analyze the data you get from users and if you need to revamp your site and give it a redesign, then do it. It's not ideal, but if you are willing to adapt to the current market and needs of the user base on your site then you'll put yourself in a much better position.
As with anything these days, everything requires work and constant tweaking. You'll never be able to create a website which is 100% flawless and gets traffic and 100% user interaction and retention. And if you do somehow nail it on the first attempt, then you can expect different algorithms to change, style and themes to improve and you'll need to adjust accordingly.
Since our founding in 2008, we've created and launched many types of business websites. Over the last decade and we've learned a thing or two! That's why we're masters of our craft, let us help you build the website of your dreams – one that generates traffic, leads and conversions.
Are you ready to start? If yes, contact ThePixel and one of our representatives will guide you through the website phases and how the process works either by a Zoom Meeting or phone.