How-to Set Long-Term Marketing Goals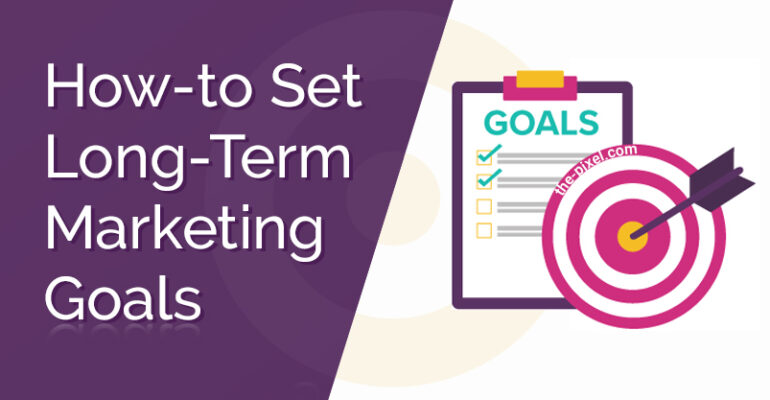 How-to Set Long-Term Marketing Goals
Marketing is complicated.
As the new year looms, planning your marketing budget and activities is top of mind for B2B marketers and leaders. When looking at your long-term marketing strategies and long-term marketing goals for the year ahead, there are probably many questions your organization will be looking to answer. Should you invest your resources into improving and optimizing your website? Should it be devoted to increasing your social activity and generating leads? What about expanding your marketing automation efforts or supporting sales and the channel? There are many different areas of marketing where you can dedicate a portion of your marketing plan, but it's critical to assess which areas need it the most, especially when you add budgeting constraints to the mix.
Building a marketing plan helps your organization meet both marketing and business objectives. Once you define these objectives, make them measurable and attach timelines. As your integrated, multi-channel plan develops, this will make it easy for your organization to see what your long-term marketing goals are, making the collective effort more effective and delivering the best possible results.
Create a Marketing Plan Focused on Key Goals
As B2B marketers, especially in the tech space, it's important to have a marketing plan that outlines key objectives to meet and tactics to utilize to meet those goals. Everything from content goals, to sales goals and more, having a full view of what is wanted to be achieved in the year can be of great benefit. Why is focusing on key goals so important? Long-term marketing strategies are made for continuous success, year after year, and these key goals can be met with various long-term marketing strategies. Long-term marketing success doesn't happen overnight, so building these strategy aspects into your marketing plan can go a long way.
How to Set Long-Term Marketing Goals
There are many different frameworks and analysis tactics that organizations can use to set long-term marketing goals. Here are a few that are simple and easy to utilize:
Base Your Goals on Previously Gathered Data: This tactic is best when looking at social media or your website. These two aspects of B2B marketing have built-in tracking mechanisms such as Google Analytics and the various social media platform analytics tools available. Doing a complete analysis of metrics for your website such as page views per month, bounce rate, page views per session and so much more can help you set long-term marketing goals. For example, you could set a goal that you want to decrease the bounce rate by 4% in 6 months or you could set a goal of gaining 1,000 more page views per month after a search engine optimization (SEO) revamp.
Create Long-Term Marketing Goals Comparable to Business Goals: Business goals should be supported by marketing goals as marketing activities will be driving a portion of business success. Be clear on what your organizational goals are before setting long-term marketing goals. Marketing activities that do not supplement what your executive team wants to see from your organization as a whole will not be useful in the long run.
Identify Strengths and Weaknesses: The reality is, we all have strengths and weaknesses when it comes to marketing. It can be a great exercise for any organization to sit down and understand what marketing strengths and weaknesses that you have. Brainstorming how to make your strengths stronger and how to address the weaknesses will build a well-rounded marketing team.
Utilize Long-Term Marketing Strategies
Long-term marketing strategies are focused on building brand awareness that gains momentum as time passes. Utilizing these activities can help your team's B2B marketing efforts be successful.
Content Marketing: One of B2B marketers' favorite tactics to utilize, content marketing acts as your team's avenue to generate and distribute thought leadership content and more. Consistently producing blogs, articles, eBooks, fact sheets and other content pieces can help establish trust and expertise by those in the industry. Readers will keep coming back to the content they learn something new from. Make your top-of-funnel content focused on education and continue to move prospects through the funnel with more personalized B2B content.
SEO: SEO is not something you can take on in one week and expect to see instant results. As more and more organizations are vying for spots on page one of search results on Google, making time in your marketing plan dedicated to SEO is a must. Understanding what keywords to optimize your website and content pieces for can help direct content to the audiences that are searching for it. Keyword research should be a core step in this process because if you aren't optimizing for the correct keywords, your rankings won't reflect accurately.
Social Media: As more and more digital content platforms and channels are utilized by teams and individuals; it's never been more important to utilize social media. In your marketing plan, this should be an activity with a considerable amount of time devoted to it. When thinking of long-term marketing goals around social media, you should create them for both your B2B organization and your B2B executives. B2B executives on social media are crucial for the thought leadership aspect while both can help build brand awareness.
Establish Long-Term Marketing Goals for Your B2B Organization
Smart management of a total marketing mix leads to efficiencies that take the form of various media working together to support and achieve a business and/or marketing goal. First, understand your goals and then work to create a marketing plan filled with long-term marketing strategies.
Since our founding in 2008, we've created and launched many types of business websites. Over the last decade and we've learned a thing or two! That's why we're masters of our craft, let us help you build the website of your dreams – one that generates traffic, leads and conversions.
Are you ready to start? If yes, contact ThePixel and one of our representatives will guide you through the website phases and how the process works either by a Zoom Meeting or phone.