5 Reasons Your Small Business Needs a Modern Website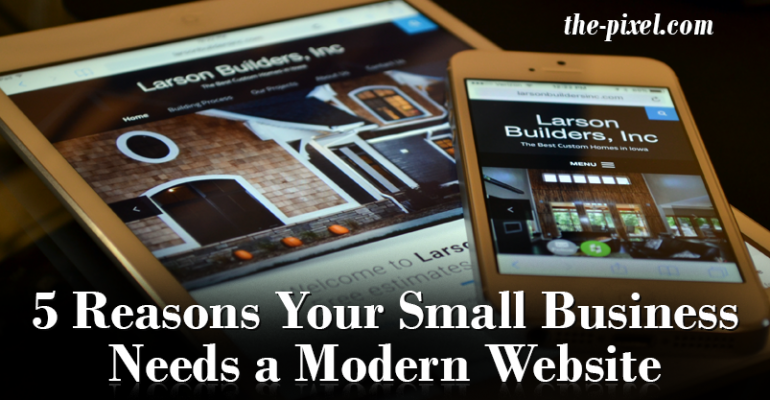 5 Reasons Your Small Business Needs a Modern Website
Your Customers Are Looking Online First
According to AdWeek, "81% of Shoppers Conduct Online Research Before Buying," which applies to products and services sold through eCommerce AND brick-and-mortar locations. It's important to note that consumer behavior still favors a storefront location in some respects, largely due in part to the perceived threat of online credit card fraud and the lack of usability in outdated shopping carts interfaces. The lesson here is that if you're an online retail business, investing in a high quality eCommerce platform with a tailored user experience is vital to ensuring your customers will buy online, anything less and they'll likely skip it altogether and wait to make the purchase in-person.
A Professional Website Will Help You Get Found in Search Engines
Regardless of design quality, every business owner wants to be found on the first page and near the top of Google's search results. In the last couple years the tools and practices to achieve this have evolved and there still exists many variables at play. However – a key component Google looks at is the overall friendliness of your user experience and whether or not your site is clearly viewable through all devices. Without a responsive website built to modern standards you'll always be fighting an uphill battle to prove to Google you're worth the front page.
A Good Website Builds Credibility and Increases Accessibility
Technology influences consumer behavior, and mobile responsive design is the most recent and visible driver of how your customers will interact with your online presence. You can see this shift playing out every day on the bus or train during the morning and afternoon commutes. While some commuters are watching movies, others are researching potential providers of products and services to reach out to, and if they're frustrated with navigating your website and finding the most relevant information then you have haven't made an ideal impression.
A Good Website is an All-Encompassing Advertising Platform
A professional website will act as an anchor, maintaining consistency across your brand's marketing and promotional endeavors. A modern website should be connected to every aspect of your business, from user generated content like customer reviews to highlighting your expertise and past work, all of which should be easily integrated with social media and the online communities that more and more consumers are a part of. Sites that can do things like connect a potential customer to your closest location, or present the most compelling testimonials based on service area or product have cemented themselves as an industry standard.
It's Your Only 24/7 Employee
Small business owners are by nature, busy. Managing staff, bills, and customers is a full-time job, and if you've ever ran a business then you know that money never sleeps (and neither do your customers!). If you can't always be there to give your elevator speech on what makes you stand out, then a professional website can do most of the heavy lifting. A high quality website for a lawyer may have a detailed and polished biography of his or her credentials, like past experience and education. A high-quality website for a primarily brick-and-mortar store should successfully bring customers into a virtual version of your space, which harkens back to improved accessibility and engagement, ultimately leading them back your storefront! As the number of social channels increases, incorporating features like a live-chat option helps give customers a feeling of accessibility and connectedness to your business, especially if you can provide a quick response time.
Since our founding in 2008, we've created and launched many types of business websites. Over the last decade and we've learned a thing or two! That's why we're masters of our craft, let us help you build the website of your dreams – one that generates traffic, leads and conversions.
Are you ready to start? If yes, contact ThePixel and one of our representatives will guide you through the website phases and how the process works either by a Zoom Meeting or phone.