Template Website vs. Custom Website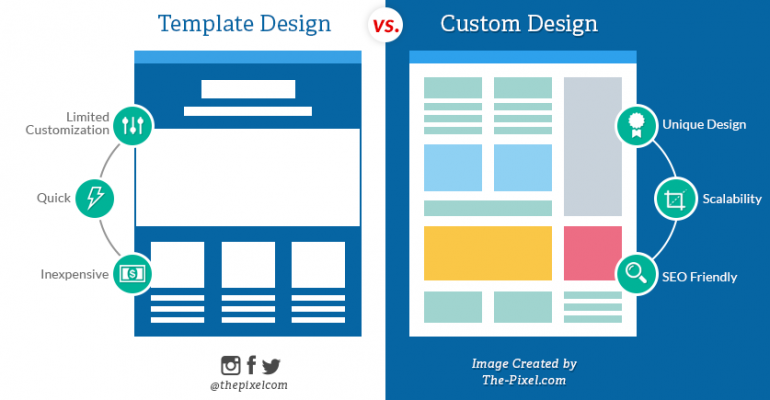 Template Website vs. Custom Website
Template vs. Custom Website Design Breakdown
Page load time, search engine optimization, easy navigation, rich content, and easy site management are just a few of the considerations you have to make when creating a website for your business. However, one of the most crucial elements for a website, which is design, is often the most ignored.
Studies have shown, 94% of users mention poor design as the primary reason they do not trust certain websites
We've all experienced landing on a site that's visually a mess, so much so that we quickly click the red "X" on our browser. Good website design is the complete opposite.
Template Website Design
Website templates are pre-built designs that are either free or sold online at minimal cost. Some  templates allow minor customizations such as choosing your own colors and images, but many aspects of the template can't be changed.
No doubt there are some appealing templates out there, but the majority of them are restrictive in their ability to be tailored to your needs. Going with a template is a good choice if you currently don't have a website and you're looking to get a website up fast, and/or you don't much of a budget to work with. By cutting out a designer, you will have to invest more time in to creating and maintaining your site, but most templates are user-friendly and don't require extensive design know-how.
However, if you're looking to have a website that visually communicates your business' story and vibe, captures the full scope of actions that you want available for your website visitors and can grow with your business, we suggest shying away from a template.
Pros
Low-cost
Wide range of templates available
Short development time
Easy-to-use backend
Includes hosting
Cons
Limited customization options
Not unique
Not built for future enhancements
Bound to one-hosting company
Not optimized for search engines
Some website templates don't work in all browsers
Not built for responsive and mobile websites
Lacks of professional touch of design and marketing
Custom Design Websites
First, let's define "custom" when it comes to website design. Custom refers to a made from scratch website that was built with your business in mind. Yes, there are common website framework principles that are followed for many websites, which is why we instinctively know how to navigate many websites we land on.
However, a custom design is when the framework, navigation, back-end interface, and every other aspect of that website is flexible and can be changed.
When working with a design team that can blend their knowledge of optimally-performing and visually-appealing design with the goals you have for your business, the result is a unique and strategic web presence.
Pros
Unlimited design options
High level of customization
Helps provide your brand credibility
Optimized for search engines
Easy-to-shift hosting companies
Includes professional design and marketing consultation
Tailored for target audience
24/7 tech support
Cons
Costs more than the do-it-yourself templates (but are more cost-effective in long-term when considering time and effort spent)
Considerations to Make Before Choosing
Is your desired website for your business or a personal site, like a blog?
Will your site include online ordering?
Will you need a blog integration?
What does your budget look like?
Do you desire video and audio functionalities?
Are you are in a competitive line of business?
Do you have an established brand and logo?
What are your non-negotiables when it comes to your website requirements?
What are some website details that you feel are crucial to your website?
Website Design Checklist
Since a template would mean taking everything into your own hands, this checklist is for those who choose to go the route of working with a web designer.
Make sure to check off these points before making your web design investment:
Hire an Established Name – Hire a website design company with an experienced team rather than a 'one man show.'
Look for Experienced Companies – Make sure you go through the website design company's portfolio and call to ask about their various levels of service and support.
Check for Authenticity – If you're not offered a consultation meeting, you are at high risk of being sold a template website that is being passed off as a custom design. Good web designers know that the consultation is one of, if not the most crucial step in your website's new design.
Learn about CMS Software – Take a tour of the company's CMS software; learn about the tools and techniques you may have to use in future.
Confirm Search Engine Optimization – Ensure that the website CMS is search engine and SEO friendly.
Guarantee CMS Updates – Confirm that your website CMS can be updated for up-to-date modern search engine indexing and security protocols.
The Takeaway
After reviewing this information and contemplating how you would like to position your business' web presence, there's probably one choice that is more of a front-runner for you at this point in time.
No matter what avenue you end up taking, as any good business owner knows, it's your unique story, your customer's experience and the quality of your product and/or service that truly makes for a successful business. Good website design just helps to make those things shine and bring them to a wider audience than before.
With ThePixel's designers and developers extensive experience in custom web design combined with our web marketing services, we can bring you a better ranking, wider audience and a cutting-edge lead in the market with a polished look and feel that will best reflect your business.