Optimize Your Website for Local SEO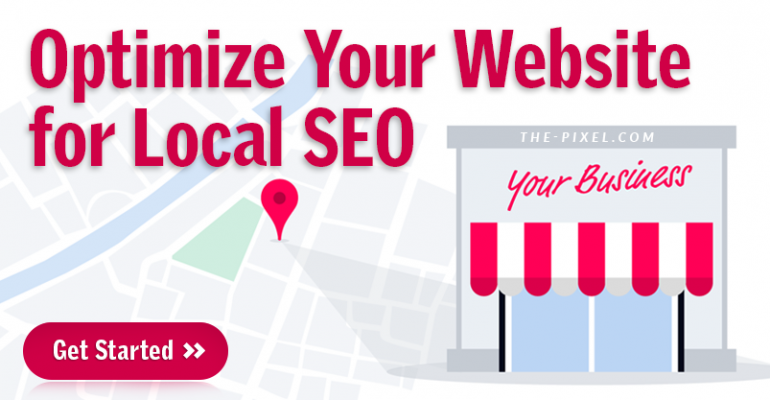 Optimize Your Website for Local SEO
Discover key components to ensure your website is optimized locally
An astounding 46 percent of all Google searches are local. Is your website strategically optimized for local search? If not, you've come to the right place! If your organization operates in physical locations, it's imperative to your marketing and SEO strategy that you continuously optimize and update your website for local SEO.
Claim Your Google My Business Page
About 56 percent of local retailers haven't claimed their Google My Business listing, so doing this is your first step if you haven't already done so. Once you've claimed your listing, it's time to ensure that it is fully completed and optimized. The last step (and this will be ongoing) is to frequently check your business listing to make sure all information is accurate and up to date. Google allows anyone to suggest edits and make changes to your listing, so it's super important to ensure your business information is always 100 percent accurate.
Add Schema Markup to Your Website
Schema markup helps Google match your business to local searchers. Although schema doesn't directly impact rankings, it does help Google organize your data and it helps your data show up in relevant search results. The best part? You don't have to be a developer or know code to implement schema markup! Place your schema markup wherever you describe your business on your website. If your organization has multiple locations, you'll want to add schema markup to each city page.
Update NAP Citations on Your Website
NAP stands for name, address, and phone number, and it's critical that this information matches up everywhere it appears on your website, as well as on the web in general.
Add Your Business to Local Directories
There are thousands of directories online for nearly every industry you could think of. Adding your business to relevant directories helps not only from an SEO standpoint (hello, backlinks!), but will also help ensure that wherever your searchers are searching for local businesses, you'll be on the list! The key is to make sure that every single listing matches exactly what's on your website and GMB (Google My Business). Tools like Yext make this super simple and efficient to do.
Get Reviews and Add Them to Your Website
We all know reviews are incredibly important and powerful marketing tools for every single business out there, and they also help with local SEO! Google reviews were the second-most influential ranking factor for local businesses—meaning the more rave reviews you can get, the higher you'll start to rank in search.
Identify Local Search Terms and Create Local Content
At the end of the day, it all comes back to creating relevant, useful content. There are several ways to do keyword research, but make sure you're doing your research on a local level. Once you've identified local search terms, start implementing those keywords into your content (blogs, infographics, videos—you name it!).
Although there are other things you can do to supplement your local SEO strategy, if you implement all of the above into your website, you'll be well on your way to ranking locally in your desired locations. And always remember: SEO is a long-term game. Sometimes you'll get quick wins, and other times, you'll wonder why you're not seeing immediate results. Just stay persistent, and I promise, it will pay off in the end.
Since our founding in 2008, we've created and launched many types of business websites. Over the last decade and we've learned a thing or two! That's why we're masters of our craft, let us help you build the website of your dreams – one that generates traffic, leads and conversions.
Are you ready to start? If yes, contact ThePixel and one of our representatives will guide you through the website phases and how the process works either by a Zoom Meeting or phone.