How-to Better Collect Data and Drive Traffic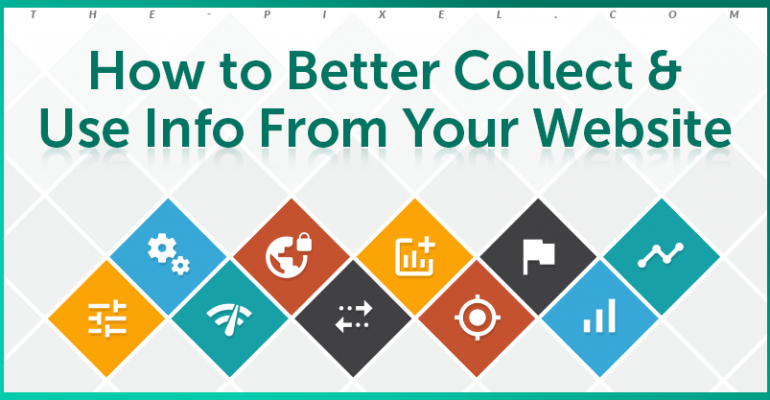 How-to Better Collect Data and Drive Traffic
Collecting Website Data
Nothing warms my cockles like a good set of data. Do you feel that way? Chances are you don't, but I am a geek and I do love data. I'm obsessed with looking at Google Analytics. I love the ability to see where the traffic came from, what pages they went to, how long they spent, where they exited, where they entered – I love all of it. Learning how data-driven websites work increases your online presents and google ranking exposure.
Collect data to help increase and drive more traffic to your website.
Who Is Knocking?
If you get people to show up to your website from Google, you have no idea who they are. In Facebook, you can pay for ads, but you have no concept of who the people seeing your page are. If the ad is to your website, you can only see who they are or what they did if they place an order. Collecting data is key to making a business successful online. I say all the time that I would rather spend 10 minutes with somebody that I know than 10 seconds with 10,000 people I don't. That's the beauty of social media.
You can go on Instagram and you can reach 10,000 people in a heartbeat. You can do the same thing on Twitter, and LinkedIn, and Facebook. The bottom line is, there's a big difference between engagement on a social media platform and engagement on your website.
Gathering Data
Today we're going to be talking about how to maximize the people who are coming to your website and what you do with their data. It really starts when people get to your website. They ask three key questions: Why am I here, what should I do, and why should I do it? Those three questions are uber important because you should be able to answer each of those questions.
Why am I here? To research something, to learn something. Generally speaking, that's what it is in the B2B world. Whether it's to learn about you and your company, or maybe to find a solution that you have to their problem. I would say in the B2B world, we're in the question answering space, that's what we're doing. We're there to educate and ask and answer questions. When somebody shows up, are they getting their questions answered? If they do get their questions answered, do we leave them wanting more? That's where the data collection comes in.
Data check. A data-driven website is a website that can easily be updated by the managers of the website. The website is created to display new content to users and customers based on the data analyzed. It is different than a static website that is only updated once. A data-driven website will continue to be updated as new information and data are provided.
Yes, a data-driven website will require more work. However, the results your business will receive will speak for themselves.
Analyzing Your Data and Make Data-Driven Decisions.
You can do all kinds of different things to collect data. You can collect the basic Google Analytics data, but if you want really good, usable information, you should be able to get that person's name and email address and maybe their company and some other things, too. The basics of data collection.
Now, you've seen this all the time. You get to a website, and there's a pop-up that says, "hey, get my ebook, download my report, get my free checklist", whatever it is, and it usually has just a name and an email address. Same thing when people are connecting up to a webinar or something along those lines. That is under the philosophy of the less is more. The less information you ask for, the more people that will fill it out, and that's a sound principle. In the case of B2B, wouldn't it be nice if you could collect a little bit more data?
If we're going to have them download an eBook, or a spreadsheet, or a cheat sheet – we can still say the only thing that's required is your name and your email address. But, you can also leave it optional to include their company, or phone number, or even market segment. If you make the form too complicated, it's a little too invasive, it takes too much time and people won't fill it out. If you make it optional and they only have to click two, you'll probably get some people that look at it and say it's too much work, but other people will say, "hey, I've only got to do those two things and I'll do it".
Many times, you'll be able to collect even more data and some more deep information that's going to help you. What market segment are they working in? What size is your company? Or what is your position? It's up to you what data you want to collect because that is key to your business.
Once you collect that data, what happens with it? Well, typically, somebody fills out a form, it emails you to let you know someone downloaded a form, and then they get to the form and they can download it, too. Now, there's some other things that you can do. My website and client's websites use something called WPForms. There are many options for WordPress out there like Visual Form Builder Pro, Contact Form 7, OptinMonster, etc. There are a ton of lead capture plug-ins. The reason I like WPForms is because it's reasonably prices and does a heck of a lot for a relatively small annual cost.
From Form To Email
The second thing that WPForms allows me to do, is not only collect that data, but it will pull it into its own little micro database. I don't need a separate database so I can see who actually filled it out and I can export that as a CSV file. It also has something called form abandonment.
If somebody fills out the email address but doesn't go any further than that, it still captures that data, which can be huge. So at least you can go in and say, "Hey, I saw you filled this thing out but you never finished it. Is there something I can help you with?" You have the ability to email them. Now, yes, that's a little bit of stalking, but in the B2B world it may be worth it. Maybe you connect up with them on LinkedIn or maybe you just send them a quick email.
The next thing that you can do is add CAPTCHA. CAPTCHA cuts down on the spam. That's huge. You don't want a bunch of junk email from Russia that you don't want to spend your time dealing with. The final thing that it will do is allow you to capture that information and import it directly into an email program. For example, if you're using Mailchimp or AWeber, you can immediately bring them in to that. Now, you have the ability to add them to an email drip campaign.
So, I see you downloaded my eBook on cannabis, for example. You can email, five additional things to think about. This especially works if you have a blog series and an eBook already done. They've downloaded the eBook, now you can go back and say, here's part one, part two, part three, part four, part five, and at the very end add, "If you have any questions, please contact us".
CRM – Follow Up
The final piece that you can do with this data with a little connection help, like using Zapier, is pull that into your CRM. From your CRM, then you can actually track interactions with them. So you can connect up with them on LinkedIn. Maybe you can send them a quick email. Maybe you can see if you can answer some questions and actually say, "I'll get back to you in three weeks".
CRMs let you actually track the relationship and the interactions you have with that person. Hey, if they just want a form and don't want to talk to you, cool. But if they do want more info, you want to make sure that you utilize your gun. And that's one of the biggest places where I see people making mistakes – they don't go in and actually utilize the data they collect.