Geofencing Marketing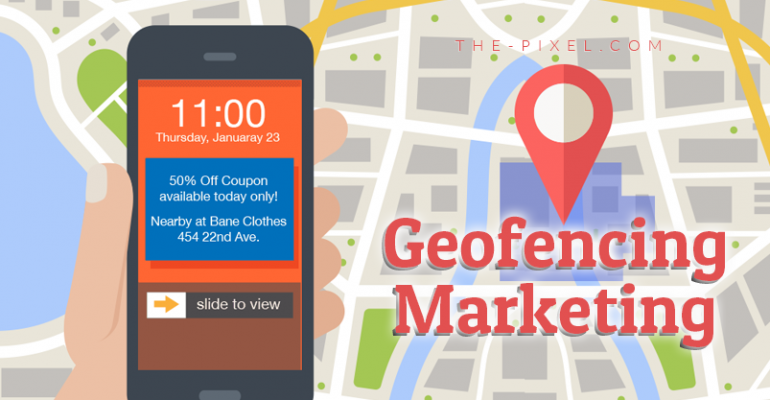 Geofencing Marketing
Many businesses have experience click-through rates on Geofencing campaigns that are higher than that of standard ads.
Geofencing marketing is location-based ads where a user's location is recorded via the internet, and advertisements are only shown to people in a specific location target.
Marketing professionals use geofencing to pinpoint specific advertisements based on the target audiences exact location.
The targeted users participate in location targeting when they use applications or programs where they are prompted to enter their location or allow a web service to access their location.
Geofencing ad campaigns are ideal to find consumers based on exact locations and serve "hyper-local" advertisements and messages. Geofencing campaigns can be set up across multiple types of online advertising campaigns, such as search engine advertising, display advertising, remarketing, and video advertising.
Here are some examples of how businesses can use geofencing to enhance their digital marketing efforts and unleash the full power of geofencing marketing:
A retail store could create a simple geofence in an area surrounding its physical location
An auto dealer could set up a geofence which is aimed at targeting individuals who are leaving a competing dealership after browsing for a vehicle.
Artists and musicians and their managers could also establish geofences around different tour stop ahead of time.
Another possible application would be an attorney, lawyer, or law firm setting up a geofencing advertising campaign to target specific areas of interest such as hospitals or jails to reach their target client.
Geofencing marketing is location-based ads where a user's location
Geofencing advertising is supported by Google Adwords, Facebook and Instagram.
When updating the campaign settings, first decide is what will the scope be. Will it be limited to country, state, city, DMA, metro, zip code, or custom radius?
Once you select Locations you can expand the geofencing options in the Google Adwords campaign. Your top geofencing and geo-targeting options are the following:
All countries and territories
The United States and Canada
United States
City
Region
Radius
For most local geofencing marketing campaigns, you will select the option of entering a location. Most of the tools have preset locations already loaded, especially large or highly populated areas.
The best part is Geofencing is incredibly affordable. Neither Facebook nor Google Adwords charges any additional fees to set up geofencing campaigns.
Not only is geofencing cheap and relatively easy to do, it's effective. You add more specific targeting layers to local online marketing campaigns, which boosts performance. For local businesses, the more locally targeted your message is, the better it's going to perform when your customers are local.
Since our founding in 2008, we've created and launched many types of business websites. Over the last decade and we've learned a thing or two! That's why we're masters of our craft, let us help you build the website of your dreams – one that generates traffic, leads and conversions.
Are you ready to start? If yes, contact ThePixel and one of our representatives will guide you through the website phases and how the process works either by a Zoom Meeting or phone.