Why Your Content Marketing Strategy Isn't Driving Results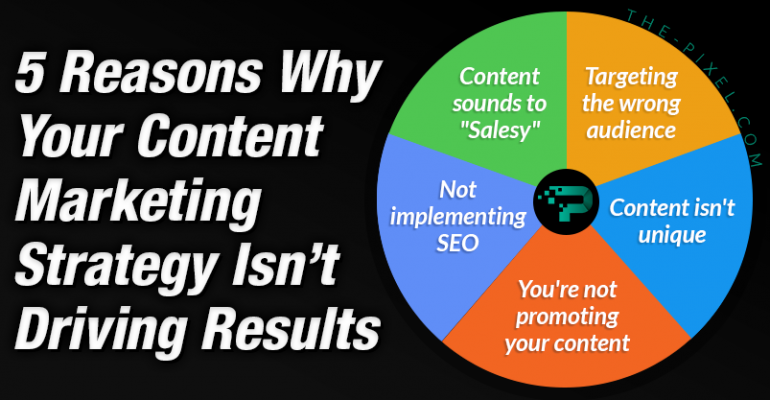 Why Your Content Marketing Strategy Isn't Driving Results
Content marketing, if used wisely, can be extremely beneficial to your digital marketing strategy.
With the Content Marketing Institute reporting that 92% of marketers view content as a business asset, it can be competitive. However, just because almost everyone in the industry is doing it, doesn't mean that you should sit back and let your competitors take the reign. In 2023, virtually no business can stand to neglect the value of content. If you're having issues with your content, or just not seeing results, you may be making a rookie mistake.
Here are five reasons why your current content marketing strategy may not be working, and how you can turn it around to better achieve your goals.
1. Your content sounds to "Salesy".
Many marketers believe that the whole point of content marketing is to convince your audience to buy your product or service, but that isn't entirely true. Rather than treating your reader as just another sale, you should build a relationship with them by providing informative and engaging content.
By answering the readers' questions and problems, you will gain their trust which will hopefully persuade them to make a purchase from you in the long-run. Read your content over and make sure that it's written with the customer in mind, and that you sound like a human rather than a typed commercial.
2. You don't know who your audience.
You can't write for your target audience if you don't know who your target audience is. Marketers sometimes think the vaguer their content is, the broader the audience they'll reach. However, when it comes to content, quality trumps quantity. Instead of throwing up mediocre content on your blog hoping to reach a large number of people, focus on narrowing in on who your potential customers are and what they're interested in.
Take a look at your current customer base, and identify their demographics and interests. Head over to your competitors' sites and scope out who they're targeting. Once you have an idea of who your content is speaking to, you can start brainstorming what topics they'd like to read about and developing a voice that resonates with them.
3. Your content isn't unique.
No matter what industry you're in, there's a good chance that you're up against some tough competitors. But that doesn't mean you should just throw in the towel and not even bother with content marketing; it just means that you have to think outside the box a little.
Think about it – if you're only addressing cautious matters in your content, what is going to make you stand out from your competitors who have all essentially written the same post as you? Some may argue "Well, my industry isn't very exciting," but that isn't an excuse. Think about different angles you can use to approach your content, and brainstorm with others in the office to develop exciting new blog ideas.
4. You're not promoting your content.
If you're one of those marketers who merely publishes a piece of content to your site and calls it a day, you really need to break that habit. Writing the content and publishing it is only half the battle. Unless you already have a strong following on your company's blog, there's no way that you're going to attract readers without putting in an effort to promote it.
Have a company newsletter? Great, include your latest blog piece in the next email. On social media? Head over to Facebook, Twitter, LinkedIn and give that article a share. Take advantage of any possible way that can get your content out there and in front of your target audience.
5. You're not implementing SEO.
Speaking of getting in front of an audience, you don't want to forget about optimizing for search when it comes to writing and publishing content. What many don't realize is that SEO and content go hand-in-hand. Sure, having a company blog is great, but SEO gives it that extra push so that readers can actually find it.
Utilize a tool like Google's Keyword Planner to conduct keyword research, and include those keywords naturally throughout your content to help people find it. Do you post your content on a self-hosted WordPress site? Download a plugin dedicated to SEO, such as Yoast. This will help you properly optimize your meta descriptions and titles, which in turn will help provide search engines a better idea of what the content is about.
Since our founding in 2008, we've created and launched many types of business websites. Over the last decade and we've learned a thing or two! That's why we're masters of our craft, let us help you build the website of your dreams – one that generates traffic, leads and conversions.
Are you ready to start? If yes, contact ThePixel and one of our representatives will guide you through the website phases and how the process works either by a Zoom Meeting or phone.