Better Lead Generation: Getting More Search Traffic with SEO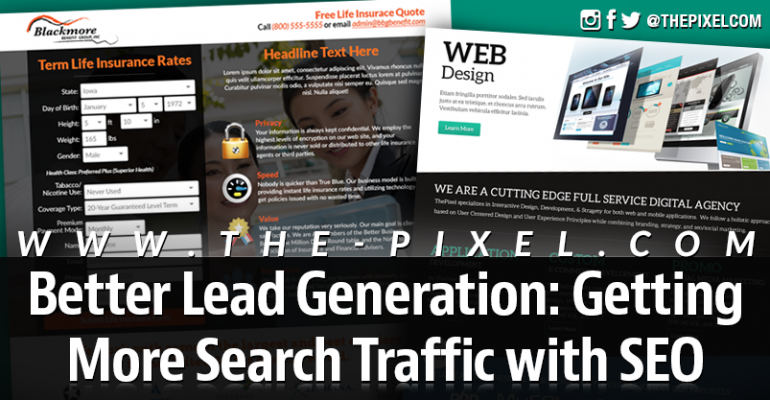 Better Lead Generation: Getting More Search Traffic with SEO
Search engine optimization helps you generate more traffic and leads
Now that you've got a good flow of visits and leads from your search engine marketing efforts, what better way to amp up your search marketing game than by optimizing your website and local presence for the organic, or unpaid, search results?
SEO is the perfect complement to your search advertising and can help you generate more traffic and leads from search results pages and lift the results of your efforts. But there are so many factors that go into search engine optimization, how do you know where to start? And what SEO tactics will have the biggest impact on your lead generation efforts?
Get on Google My Business
Google My Business is the first place you need to add your business information so your profile can show up for local, Maps, and organic searches on desktop, mobile, and apps. By making sure your business information is accurate and robust, you can help drive search traffic to your Google business profile, which can result in phone calls, in-person visits, and website visits that can all contribute to leads and sales for your business. Learn more about setting up Google My Business with our in-depth ebook.
Emphasize Your Local Presence
When a local search is conducted, search engines scan your website for local information, like your business name, address, and phone number (known as your NAP). So, by listing your contact information clearly on your site's content and in the structured metadata, search engines can more easily find your website (and help you collect more leads.) Local SEO also includes making sure local directories (not just Google's!) contain information about your business that's consistent with your website. Since these local listings can show up as a link or Map result separate from your website, they help you grow your overall presence in search results.
Update Your Website Experience
Today's search engine algorithms favor a positive and consistent website experience that includes mobile friendliness, simple navigation, fast load times, and relevant content. Not only will updating your website with these features help it index quickly for relevant searches, but it can also help keep visitors on your website when they find it and help them convert.
Publish SEO-Friendly Content
To show up in the organic search results for search queries related to your business, it's important to do thorough keyword research, then create content for your website or blog. Make sure your content appeals first to your target audience, since search engines now have sophisticated ways to understand searches and no longer rely only on exact keyword matches. You should also optimize your site with keyword-optimized metadata including page titles, tags, and short descriptions that help search engines quickly read and index your site.