Benefits of Using WordPress for B2C Websites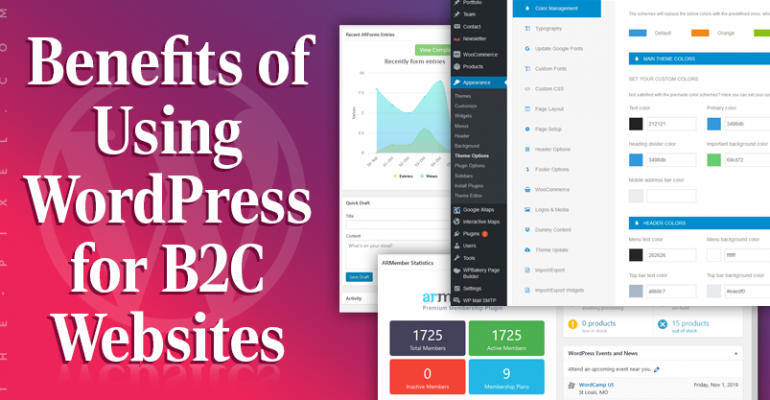 Benefits of Using WordPress for B2C Websites
Find out why WordPress is the most popular CMS
If you're researching B2C websites, you've surely read about WordPress. It's the platform we at ThePixel recommend to our clients (in fact, it's the only CMS we use) and we're far from the only agency to do so.
1. It's Popular
WordPress is one of, if not the most, widely used content management systems on the market. *** "As of 2023, according to our best estimations. This represents around 43% of all websites. And that figure is growing rapidly. In fact, over 500 sites are built with WordPress every day, compared to just 60-80 on competitor platforms like Shopify and Squarespace."
The popularity of WordPress means it's well supported. There's a large ecosystem that's built up around WordPress: developers, plugins, themes, tutorials, articles, and so on.
Do you need to find a new developer for your WordPress website? Developers who specialize in WordPress are easy to find.
Do you want to get your hands dirty and make some changes yourself? There's an excellent chance you can find a tutorial showing you step-by-step directions for what you want to accomplish.
Need some special functionality? Someone else has probably already created a plugin—maybe even a free one!
In short, the more people using a particular piece of software, the more resources there are. It's a virtuous cycle.
2. It's Frequently Updated
Software updates are a familiar hassle to all of us. Whether we like it or not, anyone using apps on their phone or programs on their computer knows they need updating from time to time.
WordPress is no exception. As one of the web's leading CMS platforms, it's constantly evolving its software – new features, security patches, maintenance updates, etc. All of which are regularly released to enhance the platform's performance.
WordPress updates its software regularly to keep it secure and to ensure it runs at peak functionality. However, these frequent updates require you to perform regular maintenance to ensure everything's up-to-date and running correctly.
3. It's SEO Friendly
WordPress is a favorite among SEOs. Part of that is due to how clean the URL structure is—it's easy for search engines and for users to read. This makes it easier for everyone to determine what the page is about.
As mentioned above, one of the advantages of WordPress is its ecosystem. That's definitely true in the case of SEO, because Yoast SEO is one of the most powerful tools on the market. It's a great way to get started with SEO for your B2B web design, but it will also help guide you through more in-depth items. For example, earlier this year, Yoast published an update pushing for defragmented Schema markup, something not many other tools were looking at yet.
4. It's (more) Portable
Some of the most common competitors to WordPress are services like Squarespace and Wix. There are certain advantages to these platforms, but there's one big drawback: they aren't portable.
Let me explain. WordPress is a software, like having Word installed on your computer. You can install Word on other computers too (if you have the proper licensing, which WordPress also makes easy, but that's a different blog post). Squarespace and Wix offer software, too, but there's no licensing that allows you to move that software elsewhere.
Why would this be a problem?
Let's say you have a Squarespace website and you love how it looks and how easy it is to manage. But let's also say you're starting to see performance issues. Maybe your B2C website is going down frequently. Maybe it's just slow. (This is a hypothetical situation. I'm not familiar with Squarespace's uptime or speed and have little experience with it myself.) Your only recourse is to try to get Squarespace to improve the service. You can't move the website to another host. If Squarespace support can't help you, your only recourse is to completely rebuild your site somewhere else.
With WordPress, the software can be moved to another host. Maybe you start on GoDaddy (which we don't recommend, but it is cheap) and you want to improve things. Well, you can move your B2C website to WP Engine or Pantheon (which we do recommend). You may see a couple of minor differences in the WordPress admin, but it's largely the same. And your visitors will never see a change (except improved performance!).
There are a lot of options when building your B2C website design. Do your research to find the best option for you. However, if you're looking for an SEO-friendly (which you should be) content management system that's well-supported, WordPress certainly fits the bill.
*** [source]
Since our founding in 2008, we've created and launched many types of business websites. Over the last decade and we've learned a thing or two! That's why we're masters of our craft, let us help you build the website of your dreams – one that generates traffic, leads and conversions.
Are you ready to start? If yes, contact ThePixel and one of our representatives will guide you through the website phases and how the process works either by a Zoom Meeting or phone.