7 Steps to Engage Your Company's Audience On Social Media
7 Steps to Engage Your Company's Audience On Social Media
More engagement on your social posts and attract more interest
Social media is not like traditional marketing where you're directly sending marketing messages to your customers. You can do that of course, but certainly not the most effective use of time.
Rather, social media is a way to build a brand and a reputation over time with a large and diverse audience, some of whom might not become your customers.
However, being active and seen as a leader in your industry will certainly being engaging to customers and attract new prospects to your company's sales and marketing pipeline.
That's why it's important to understand that social media is a powerful asset to a business precisely because its where buyers are hanging out and looking for information.
Many times, it helps establish your company as a product or service that should be a part of the conversation, when your audience might not have known you existed before.
To get more engagement on your social posts and attract more interest, ensure your company is doing these seven things.
1. Make your content unique and engaging
If you're not writing something that your audience can't get anywhere else, then your content will just fade into the background chatter of social media.
You can become an expert in your specific business niche by offering up insightful information that your audience deems valuable. When your customers and prospects know and trust you and like what you have to say, they're going to share your content with their friends.
2. Use strong headlines and accessible prose
A good headline entices your readers to click on a link and should contain enough information to gauge what it is they're clicking on. Fill your headlines with action verbs and keywords.
Beyond the headline, make sure your writing is accessible. Don't use industry jargon or try to sound smart by explaining something in an unnecessarily complex way.
You may instinctively gravitate toward communicating in the way that your industry peers communicate, but the fact is your social-media audience won't take time to try to decipher something that isn't written in plain, straightforward language. There are a few headline score generators for content out there that can help, I personally like Sharethrough's headline analyzer.
And of course, avoid clickbait, no one likes to be duped and can leave a bad impression on your brand.
3. Offer up varied, multimedia content
Content can and should take many forms, from blog posts and white papers to slideshows and infographics and videos.
Each platform offers a different way to present information, and as you test out these different platforms, you'll get a sense of what mediums resonate with your audience. The key is to keep things fresh with a variety of media that will delight, surprise, entertain and educate your audience.
This also means you shouldn't constantly just share links to articles or resources on social. Directly upload images, videos, company culture related things, etc.
4. Keep your pulse on the conversation
If you're writing your content in a vacuum, you're not positioning your content for maximum shares.
It is so important to track your audiences' chatter on social media, to pay attention to what's trending and what's getting your audience excited or frustrated or curious.
When you can keep your pulse on the social-media conversation, you can tailor and adapt your content in ways that will feel fresh and appeal to the sensibilities and interests of your audience. Take special advantage of trending hashtags, which people will appreciate and be more likely to find and read.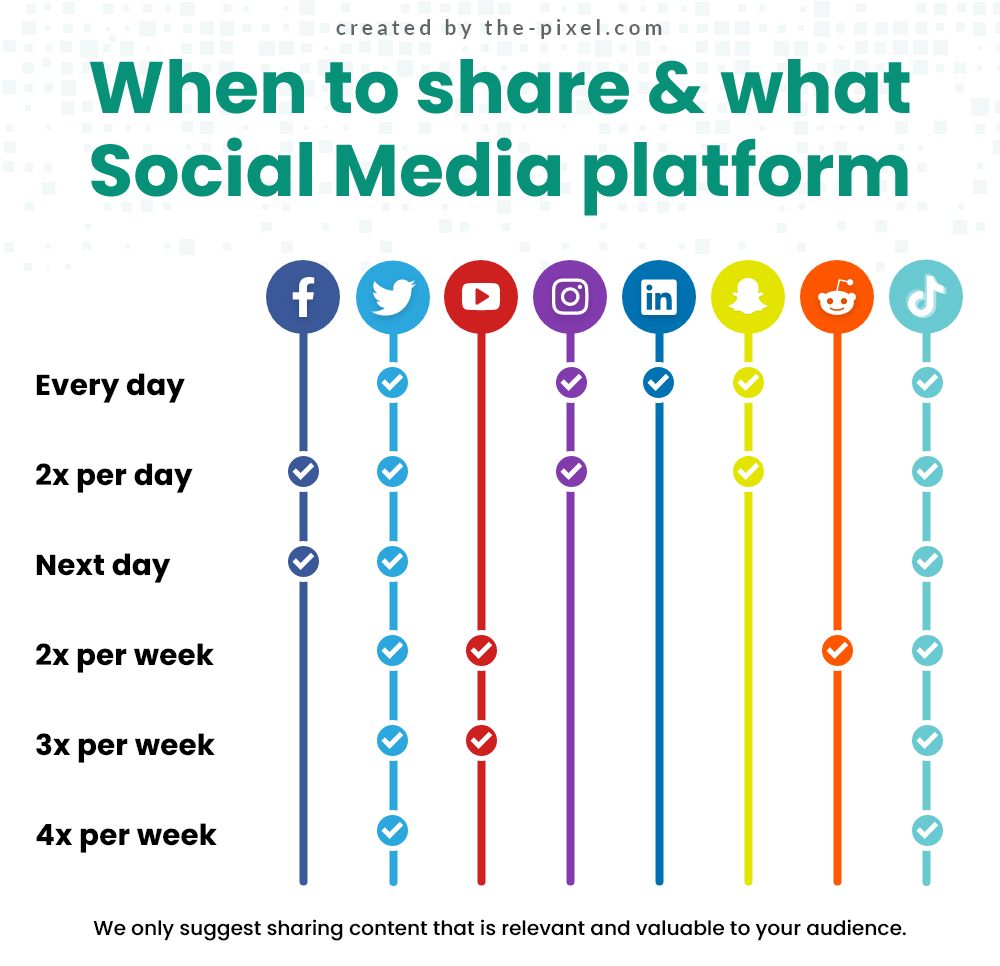 5. Track when your audience is most active
Use social media analytics to track when your audience is interacting with your content. Let's say you find out that most of your audience is retweeting and "liking" your content on weekday mornings – if that's the case, serve up your best stuff on weekday mornings.
The goal is to cater to the days and times of day when the biggest portion of your audience is engaging and clicking your content.
Also, ensure to append tracking parameters like UTMs to any social shares, that way you can analyze what is having the biggest impact during your reporting. This can help determine the type of content that is having the biggest impact too, like conversions, clicks, and specific goal completions.
6. Create incentives for sharing
Like any audience, your social media audience loves giveaways and opportunities to earn something for nothing. There's nothing wrong with incentivizing your audience to retweet and share your posts by giving them something back.
Perhaps you could be entering them into a contest to win a small prize, or maybe you could be giving them a discount on one of your popular products or services.
No matter the direction, it's a good way to get engagement and spread your brand via social media.
7. Tap into employees social networks
A growing strategy and practice is to encourage employees to share content on social media, called employee advocacy. While this is slightly different from the above tips, it's highly effective.
Why? According to Weber Shandwick, 98% of employees use at least one social media site for personal use, of which 50% are already posting about their company.
Employees are also seen as more trusted compared to corporate handles, social ads, and executives. It's a great way to boost company content, increase brand visibility and social engagement, and reach audiences a corporate account might not be able to do.
Final Thoughts
Your social media goals should extend so much further than just writing great content. In fact, if you're not proactively doing everything you can to get your content to been seen and engaged with, you may as well not invest time and money into having a social media presence at all.
Fortunately, the formula for getting your content to get noticed on social media is simple: Knock your content out of the park with well-written and engaging prose, keep close tabs on your audiences' habits and conversations, incentivize your audience to share, and encourage employees to get involved in the social conversation.