5 Factors That Give Your Website Credibility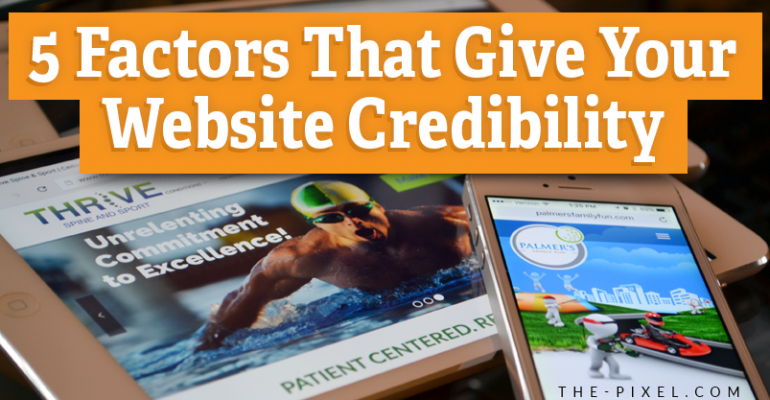 5 Factors That Give Your Website Credibility
Your website provides customers with a peek into the kind of business you run—its reputation, its trustworthiness, and its basic value proposition. In other words, your website hints at how credible your company is, and whether or not customers should trust it with their time and money.
Just think for a minute: There are plenty of legitimate businesses on the Web, but also some sketchy ones. Potential customers aren't going to bank on your business unless they see that it's the real deal—not something shady or unscrupulous.
And customers aren't the only ones who care about credibility. Search engine algorithms also work to assess the credibility level of your website. As you might imagine, a higher level of credibility will improve your SEO rankings.
But just because your business is credible doesn't mean your website conveys it—which raises the question: How can you inject some credibility into your website design?
5 Ways to Develop a More Credible Website
1. Reviews and Testimonials
One of the quickest ways to establish your business's legitimacy is to simply offer some social proof—direct reports from satisfied customers. Reviews and testimonials are both powerful ways to accomplish this. Just make sure you steer clear of any fake testimonials, which can come back to bite you. (And today's savvy online consumers are better than you might imagine at detecting fakes.)
2. Advertisements
Some businesses host third-party ads on their site in order to generate extra revenues. This may seem tempting, but it can ultimately be counterproductive. Simply put, the presence of ads makes your business seem a little iffy.
3. Regular Updates
Have you ever stumbled upon a website that seemed as though it hadn't been updated in years? That's obviously not a good look for your business site, as an out-of-date website can make it seem like the business itself is dead. Build credibility by refreshing your website content annually, and by updating your blog often.
4. Clear Contact Information
Here's an easy one: Make sure your company contact information is clearly listed on your website, and invite customers to call or email with any questions. If you don't include this contact information, it can make it seem like you're hiding from your own customer base.
5. "About Us" Content
Finally, you can make your business seem more credible by offering some information about who you are. Ideally, you'll have team member bios and photos on the website, emphasizing the real people behind the company.
Boost Your Website Credibility Today
Make it clear to search engines and to potential customers alike that your business is the real deal—and that it's worthy of their time and money.
Since our founding in 2008, we've created and launched many types of business websites. Over the last decade and we've learned a thing or two! That's why we're masters of our craft, let us help you build the website of your dreams – one that generates traffic, leads and conversions.
Are you ready to start? If yes, contact ThePixel and one of our representatives will guide you through the website phases and how the process works either by a Zoom Meeting or phone.